This page is dedicated to the Grey Muzzle Always In My Heart campaign donors. During the year, our supporters celebrate the pets they have cherished by making a special "in memory of" donation to the Always In My Heart campaign.  A gift of $20 or more supports senior dogs nationwide who have become homeless when they are most in need.
Always in My Heart Donors
Always in My Heart tributes are displayed with most recent tributes at the top.
Tina Reza
So sweet, so kind, so gentle. Forever in my heart.
Sarah Colquitt
Lady was such a sweet and loving dog. She was one of the first dogs I was comfortable with because she was so special. I loved seeing her on holidays when we went to Uncle Mel and Aunt Susan's house. She made everyone happy and we will all miss her.
Tamar Geller
I'm so sorry for the passing of princess Lola.
She was and will always be an angel in your life!
With love and blessings
Tamar
Heidi & Terry
Heaven has another angel as Tuckey joined our other fur babies who we love and miss.
We honor them all and the love & happiness they have given us.
Pat Woodson
Love, playfulness, gentleness, joy and boundless devotion are Candy's eternal gifts to us. She inspired compassion and connection with all animals to my daughters and to everyone who had the great pleasure of knowing her. Her eloquent eyes spoke clearly of her wisdom and sense of humor... and always of love.
Tony
We were two lost souls. For fourteen years we were found. I think of you every day. See you at the Bridge......
Katie Swanson
To our little angels, saying goodbye to you is like losing our children and best friends all in one. You have been companions in times of loneliness, a comfort in times of sadness, and an everyday joy that shaped our lives and touched our hearts. Losing you has been so hard but we will always cherish every day we spent together. You will be with us in our hearts for the rest of our lives until we finally reunite with you again in heaven.
Love forever, Katie and Nathan
Rebecca
To our Hanna, who enjoyed many years of playing frisbee, walking in the woods, and eating peanut butter treats. Your humans will miss your goofy smile and secret cuddles the most.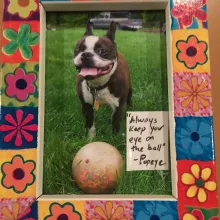 Liz Thompson
Pops, you always kept your eye in the ball. Thanks to you, your Mom and I are very good friends. We miss you.
Cassie
In loving memory of our sweet Hanna girl who gave us nothing but joy and amazing frisbee throwing skills for 14 years. <3
Results Paging Controls