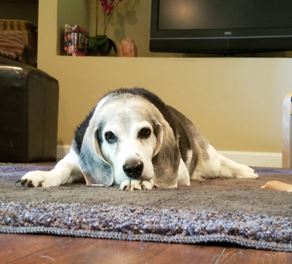 Arizona Beagle Rescue (AZBR) is a statewide 501(c)(3) non-profit animal welfare organization comprised of volunteers dedicated to beagle rescue and community education.  AZBR's mission includes:
•    Preventing the euthanization of Beagles throughout the state of Arizona
•    Finding Forever Homes for homeless Beagles
•    Providing beagles and their companions the opportunity to interact with other beagles and beagle fans
•    Helping beagle guardians better understand their beagle's temperament and traits
•    Guiding people who have found a stray beagle in the appropriate and legal step to take
•    Assisting those who need to find their beagle a new home, when they can no longer keep their beagle
•    Educating the public on the importance of spay and neuter
A grant from Grey Muzzle helps Arizona Beagle Rescue provide more comprehensive medical care for more senior dogs.   When senior dogs have clean teeth and a full medical, potential adopters are informed with a thorough report on each dog's health and condition.  
For some dogs with chronic but treatable ailments, the program provides adoptive families with financial support for medications/dog food as needed.  For dogs that are deemed unfit for adoption (whether it be medical issues or behavioral issues), their Forever Foster program allows senior beagles to live out their natural lives in a foster home, surrounded by the family that they are a part of.