Twitter
Facebook
Google Plus
Pinterest
An old dog. 
A beloved dog. 
Ranger lived his entire life with a devoted elderly couple in a rented home, but then the owner of the house died and his family wanted the house back. Faced with losing their home, another tragedy struck: the husband passed away from cancer leaving his wife, Gloria, to manage as best she could. Before he died, Gloria's husband asked her to make only one promise: not to take Ranger to a shelter. For weeks Gloria, who suffers from early stage Alzheimer's disease, did not know what she was going to do with Ranger. She knew she could not care for him properly. She was alone. She had no family. Faced with losing her home, she had no alternative but to return to her native El Salvador. Gloria had no means to take Ranger with her or to pay for the medical care he obviously needed. She was prepared to live on the streets with Ranger before she would defy her husband's last wish for their beloved dog.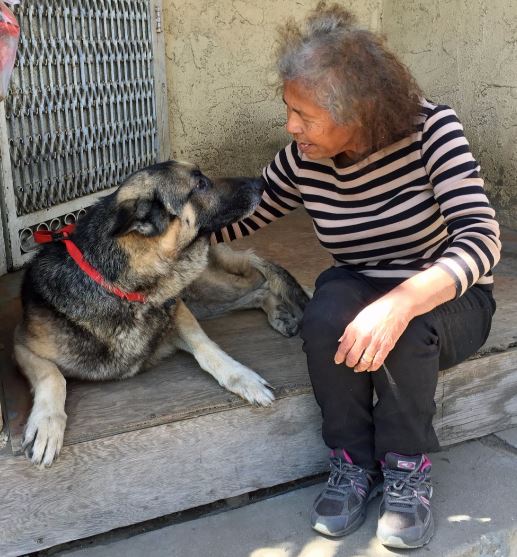 But soon Gloria discovered she had a guardian angel in her neighbor Isabel, who also loves dogs, and took to social media with a plea for help. That plea found its way to Sharon M. who alerted Angel's Bark Dog Rescue about Ranger's plight. Angel's Bark then reached out to the Thulani Program. Thulani rallied to create a plan to meet Ranger. It was a small step, but it took a village!
One of Thulani's volunteers went to meet Ranger, but discovered another hurdle. Gloria and Isabel only spoke Spanish, and the volunteer only spoke English. Enter Isabel's teenage daughter, Ariana, who stepped in as our interpreter. Happily, a date was arranged to bring Thulani and Ranger together. 
Thulani volunteer Elaine drove to Isabel's home in the Watts neighborhood of Los Angeles to pick up Isabel and Ariana before heading out to meet Gloria and Ranger. When they pulled up, Ranger was keeping watch over his flock of chickens and sitting next to Gloria. He was waiting with a big smile to meet some new friends. Clearly devoted to Gloria, he remained by her side during our visit. Ranger charmed his new Thulani friends with his affection and calm demeanor. Although sad to relinquish Ranger, the last of her dogs, Gloria said goodbye to her loyal friend with relief and happiness that he would be safe, have a second chance to spend his life with another loving family, and never ever put a paw inside a shelter.
Ranger spent the next few days receiving much-needed veterinary care, supported by the Grey Muzzle grant, and making friends with all the vet techs. He then boarded the German Shepherd railroad to Thulani Central. He quietly enjoyed the scenery during his drive north where, upon his arrival, he charmed the socks off our very own Bob Jachens, Director of Thulani. It was no surprise to us that once Thulani announced Ranger's arrival it didn't take long for potential adopters to get in line!
Now adopted by Marsha, Ranger is continuing his recovery with her care and affection. With Marsha, he is discovering that his life will continue with the love he has always known and with someone who treasures his devotion as much as his first owners did. 
By Elaine Booker