Twitter
Facebook
Google Plus
Pinterest
By: Jo-De Davis
Volunteer, Grey Muzzle Organization                                                        
The term hydrotherapy is defined in Greek as "water healing." Canine hydrotherapy was introduced to our country through the greyhound racing industry, over a century ago. Today it constitutes a popular, cost-effective, non-weight bearing exercise choice. 
Our grey muzzles commonly use water therapy for the following reasons:
Pre- and post-surgical fitness
Degenerative conditions (arthritis, dysplasia)
Muscle sprains
Ligament damage
Obesity (less joint aggravation in water vs. land)
At Paws to Swim, an indoor canine swimming facility in the Richmond, Virginia area, owner Alice Nickel and her trainer, Diane Kelley, say the most beneficial outcome of this therapy for senior dogs is in strengthening muscles and improving overall cardiovascular fitness. Because of the water's resistance, a five-minute swim can be equivalent to a five-mile run (lapawspa.com). Besides boosting circulation, canine hydrotherapy can aid lymph drainage and promote digestion. Together, these results can help dogs feel better, allowing them to be more active and improving overall fitness levels.
Dogs who undergo rehabilitation at facilities specializing in hydrotherapy typically work out in specially designed swimming pools. These pools are smaller than Olympic-size pools and heated at higher temperatures for geriatric clientele, and they can either be salt water or chlorinated. Most are outfitted with ramps or harnesses that allow dogs to be gently placed into or lifted out of the pool. For strength building, pools are sometimes fitted with water jets, which add resistance, or underwater treadmills. In the pool, dogs may swim with or without life jackets.
There are several veterinary-based rehabilitation centers across the country. Dr. Christine Jurek, of TOPS Veterinary Center (in the Chicago area), says they accept dogs by veterinary-referral only. The therapists are staff-certified or under the direction of an on-site veterinarian, and all therapies are veterinarian-directed with periodic written progress reports. Dr. Jurek notes caution must be used in water resistance with senior dogs. Problems such as heart murmurs, high blood pressure, and breathing difficulties must be monitored, making oversight by a veterinary professional even more important. Physical therapists can also work independently in canine hydrotherapy programs, but TOPS believes it is still best practice to have a veterinarian involved.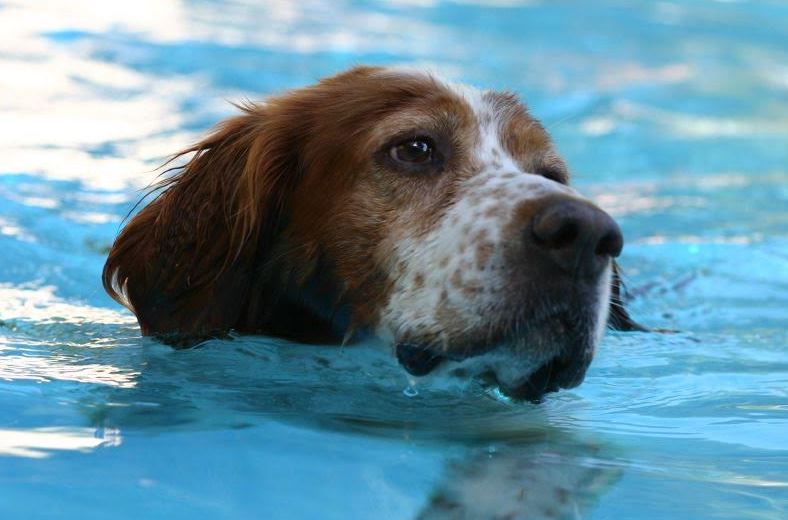 As canine hydrotherapy has become more popular, new facilities have opened. However, as there is no particular certification or licensure for canine hydrotherapy treatment programs, no two are exactly alike. For this reason, Alan Douglas, who owns Alpha Dog Club in Richmond, Virginia, says that it is important to use caution when hiring a facility to oversee your dog's needs. Some canine hydrotherapy facilities are quite popular despite lacking a supervising veterinarian. Most facilities, though, employ assistants with a veterinary background, and the majority of instructors have had formal training, typically in canine rehabilitation. Dr. Jurek noted that members of her staff had received certifications from the University of Tennessee Canine Rehabilitation, Canine Rehabilitation Institute (Florida), and Healing Oasis (Wisconsin).
Canine hydrotherapy programs provide healing and rejuvenation for our grey muzzles. Another benefit is the healing it provides for us. As Hermine Douglas, president of Alpha Dog Club, so unequivocally states, "You have to smile when you watch your dog swim."
This is an informational article only. Before enrolling your dog in any type of hydrotherapy program, please contact your veterinarian for advice.
About the contributor:
Jo-De Davis has been involved in animal rescue throughout her lifetime. Besides volunteering with Grey Muzzle, she is presently volunteering for FETCH A Cure and the Virginia Equine Welfare Society. She serves on the Citizen Committee for Coordinating Animal Welfare in Chesterfield County, VA. Jo-De has had four senior dogs. Jack, her most recent adoptee, is 13 years old.