Twitter
Facebook
Google Plus
Pinterest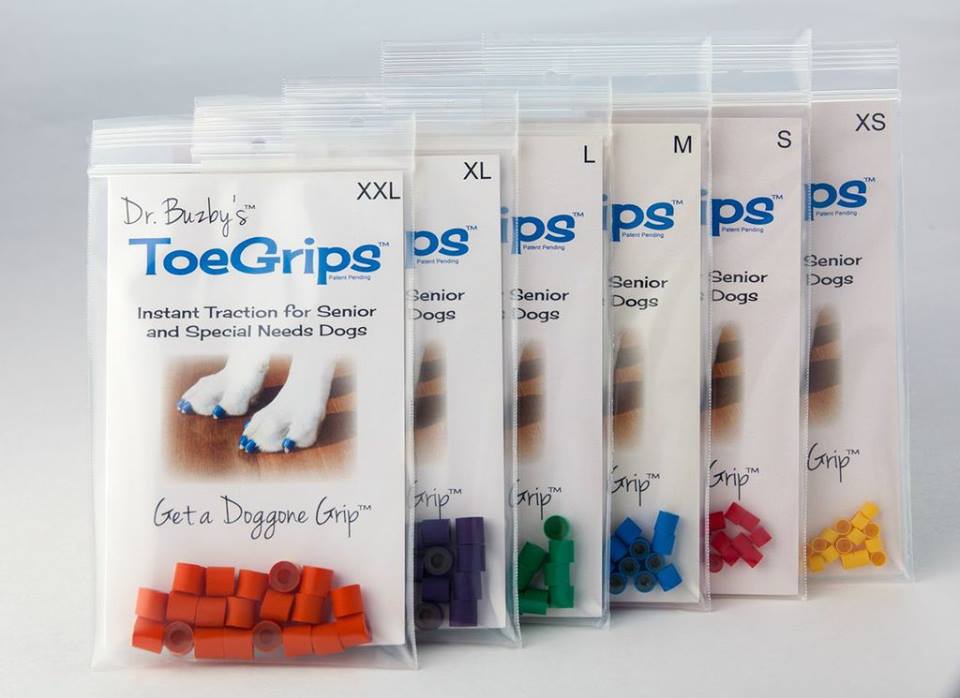 The Grey Muzzle Organization has a fantastic Advisory Board of experts from many professions, including veterinarians like Dr. Julie Buzby. Dr. Buzby is a practicing veterinarian who, after years of frustration watching her patients struggle on hard floors, developed Dr. Buzby's ToeGrips for Dogs, devices which improve mobility in dogs by providing them with better traction.
Dr. Buzby explains why she developed ToeGrips: "As an integrative veterinarian, many of my patients are senior dogs whose quality of life is linked to their mobility.  While numerous options exist for treatment of pain and arthritis, no practical, ergonomic solution existed for the age-old problem of dogs slipping and struggling on hard-surface floors. A dog's natural mechanism for gaining traction is by engaging the nails, which are designed to dig into earthen terrain like soccer cleats.  But on hard-surface floors, when a dog utilizes his nails to avoid slipping, the problem is exacerbated."
Her ToeGrips are rubber rings that slip onto a dog's nails and provide dogs more traction than a dog's hard toenails. They are placed on a dog's nails just behind the bottom of the nail tip. Dr. Buzby has noticed that the patent-pending rings provide "instant traction and restored confidence."
"ToeGrips were designed for senior and arthritic dogs, but have also been helpful for blind dogs, tripawd dogs, dogs that use wheelchairs or prosthetics, dogs that have hind end weakness, and dogs who are rehabilitating from surgery or injury (such as cruciate ligament damage or intervertebral disc disease). ToeGrips have transformed my patients' lives."
Read a Grey Muzzle Q&A with Dr. Buzby
Dr. Buzby attests, "Simple yet revolutionary, Dr. Buzby's ToeGrips are the solution I'd longed for my entire career.... After witnessing this product radically transform the lives of my patients, I was compelled to make ToeGrips commercially available for all at-risk dogs. The flood of heart-warming testimonials from owners of elderly, disabled, and therapy dogs has cemented my resolve."
You can find out more about ToeGrips by asking your veterinarian, or visiting www.toegrips.com.
The information presented by Grey Muzzle is for informational purposes only. Readers are urged to consult with a licensed veterinarian for issues relating to their pet's health or well-being or prior to implementing any treatment.
The Grey Muzzle Organization improves the lives of at-risk senior dogs by providing funding and resources to animal shelters, rescue organizations, sanctuaries, and other nonprofit groups nationwide.
About Dr. Buzby: After graduating from veterinary school, Dr. Julie Buzby earned certification by the American Veterinary Chiropractic Association in 1998, and by the International Veterinary Acupuncture Society in 2002. As an integrative veterinarian, Julie seeks to blend the best of Western medicine, alternative therapies, and creative tools for maximum wellness in her patients, the majority of whom have grey muzzles.