Twitter
Facebook
Google Plus
Pinterest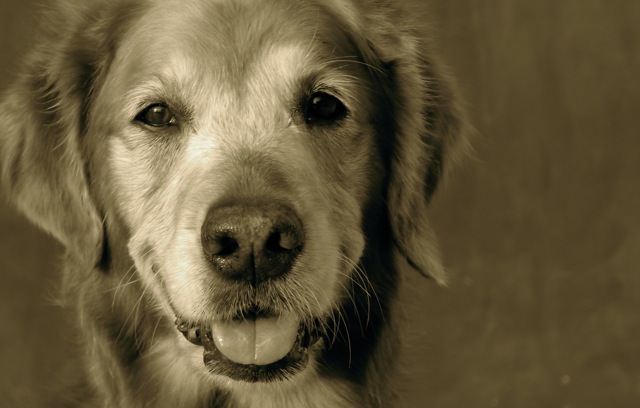 In June 2012, my Golden Retriever, Haley, was close to dying in the backseat of my car as I rushed her to the ER. A tumor had burst in her spleen. Shortly thereafter, she was diagnosed with hemangiosarcoma, an aggressive cancer with a poor prognosis for life beyond three months. Fewer than 10% of dogs survive this type of cancer over one year.
However, using an integrative approach of holistic and conventional veterinary medicine, Haley thrived for 21 months after first being diagnosed — and, in that time, even became a therapy dog.
Our experience together inspired me to found Haley the Wonderdog, a site where dogs with cancer can live better and longer and The Paw It Forward Project, featuring random acts of kindness for dogs. I will also be curating a Cancer Wellness section on the Grey Muzzle website that offers tips and resources for caregivers and their senior dogs with cancer.
According to Morris Animal Foundation, over half of our dogs will be affected by cancer. It is the most common cause of death in dogs over two, and age only adds to the risk. If you too have a dog that has been diagnosed with cancer, here are five places to which you turn for initial guidance:
The information presented by Grey Muzzle is for informational purposes only. Readers are urged to consult with a licensed veterinarian for issues relating to their pet's health or well-being or prior to implementing any treatment.
The Grey Muzzle Organization improves the lives of at-risk senior dogs by providing funding and resources to animal shelters, rescue organizations, sanctuaries, and other nonprofit groups nationwide.
About the Contributor:
 RD Moreno is a Grey Muzzle volunteer news writer and editor of 
Haley the Wonderdog
, a site that helps dogs with cancer live better and longer through an integrative approach of holistic and conventional veterinary medicine. She also publishes 
The Paw It Forward Project
, a blog that showcases good deeds for dogs.