By Anne Kenny Strauss
Foster Pet Outreach is a Peoria, Illinois-based rescue focused on promoting the well-being of animals in their community. In their grant application to Grey Muzzle, they wrote, "Our problem is that we don't adopt out enough senior dogs!" A grant from Grey Muzzle will change that. With Grey Muzzle's support, Foster Pet Outreach has created a Senior Dog Program dedicated to finding forever homes for a greater number of senior dogs.
Foster Pet Outreach is both optimistic and realistic, recognizing the challenges to adopting out more senior dogs. The problem is twofold. First, the cost of medical care for senior dogs is often more than three times the cost for younger dogs, and many potential adopters are unable or unwilling to cover this cost. Second, senior dogs do not move through the adoption process as quickly as younger dogs. Dogs under the age of seven are generally adopted within 46 days of entering foster care; senior dogs take an average of 70 days to find their forever homes. 
The Senior Dog Program will take a two-pronged approach to addressing this problem. First, a Senior Dog Health Fund will provide much-needed medical care. In addition, the Foster Pet Outreach Senior Dog Team will use a new process for intake, promotion, and adoption of senior dogs that is designed to decrease the amount of time senior dogs stay in the foster program before adoption.  
Foster Pet Outreach is working with shelters to bring a greater number of senior dogs into their foster program--ideally one or two additional senior dogs per month. Upon intake, these dogs receive any necessary medical attention before they are settled into loving foster homes. That's when the Foster Pet Outreach Senior Dog Team gets involved, actively promoting the dogs on social media and through partnerships with a veterinary clinic and local businesses. 
Foster Pet Outreach Fundraising Coordinator Hannah Humphrey explains, "Our preferred veterinary clinic has agreed to feature our senior dogs on their social media feeds. We also have a great relationship with local media, and we have been invited to feature animals on local broadcast news and local talk show segments. We recently began a partnership with a local automotive dealer that plans to feature an Animal of the Week on their website and social media, and we will definitely feature senior dogs as much as possible."
Promoting individual dogs will also be an opportunity to educate the community about senior dogs in general. Hannah goes on to say, "We want to make a difference in the lives of all animals, especially senior dogs, because we believe their loyalty, character, and personality are a positive addition to any family. We believe it is our duty to educate our community about the plight of senior animals as well as all of the benefits that come with adopting a senior companion dog."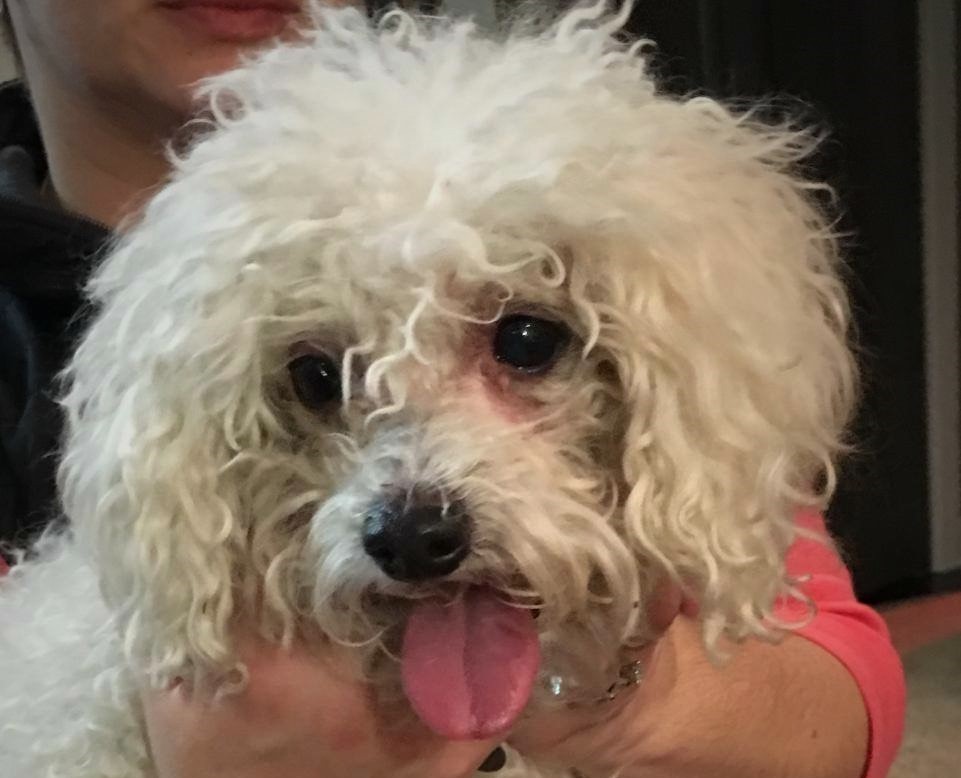 Four families in the community have already experienced the joys of welcoming senior dogs into their homes. Senior dogs Curly, Maggie, Ginger, and Truman have found homes through the Foster Pet Outreach Senior Dog Program.
Barbara, the mother of Curly and Maggie says, "We highly recommend people open their hearts and homes to older dogs. It's well worth it!"
Wilma, the mother of Ginger, an eight-year-old Cocker Spaniel mix, shares, "When I saw her on the Facebook page, I knew we could make her life better. Turns out, she rocked our world, and we feel so lucky to have her!"
Truman found his forever home at the age of 12. Although he is blind, his loving family has helped him to adapt to this challenge. In turn, Truman has "added such joy to our house," says his mom Dianna.
Foster Pet Outreach will track the success of the Senior Dog Program on a monthly basis. They expect to see an increase in the number of senior dogs coming into the program and a decrease in the time from foster to adoption. On social media, they expect to see an increase in the number of hits from both Facebook and Twitter. The Social Media Coordinator will monitor these numbers on a weekly basis so that Foster Pet Outreach can adjust their marketing and promotion plans accordingly.
The Foster Pet Outreach Senior Dog Program is dynamic, life-saving, and sustainable. Hannah sums it up: "The success stories we see for individual senior dogs will help sustain and inspire our partnership even beyond our initial funding. Since our program also addresses community education, we are confident that we can fundraise for additional senior dog efforts in the future. We think businesses and individuals will be happy to designate their donations for senior dogs."