Twitter
Facebook
Google Plus
Pinterest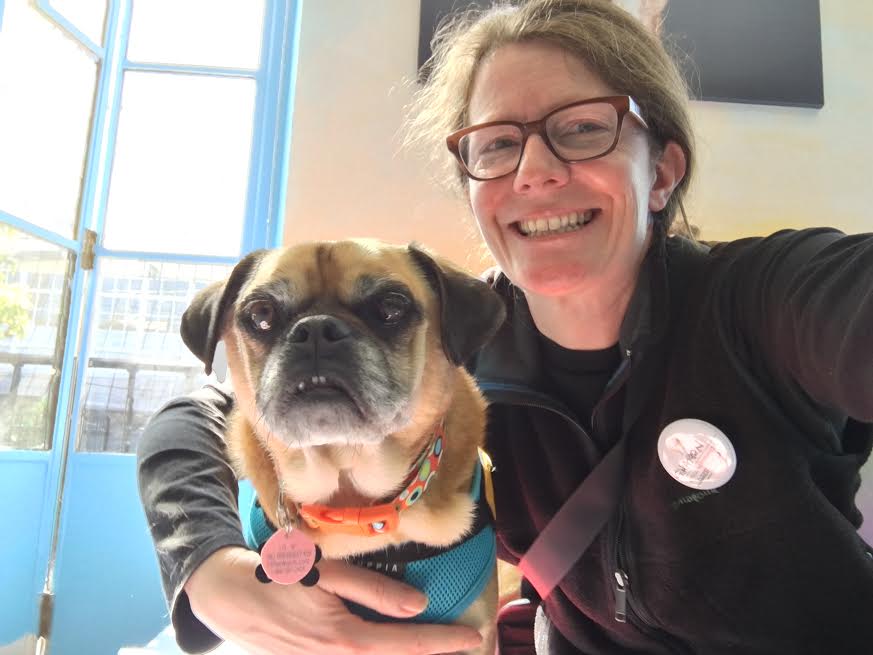 Sharon Castellanos founded the award-winning Grouchy Puppy® dog blog over five years ago.  She resides in California and is a regular volunteer at Muttville Senior Dog Rescue, one of Grey Muzzle's grantees.
At seven in the morning I am out the door walking two and a half miles to spend three or more hours with some old friends. The crew that greets me each week is the perfect blend of personalities! They never fail to make me feel welcome. After I get my apron on, and fill my pockets with treats and bags, I go into the doggy loft to say good morning. And it is a good morning when I spend it volunteering at Muttville Senior Dog Rescue, one of Grey Muzzle grantees.
Last year, and the year before that, I couldn't volunteer so I donated social media influence, money, and dog supplies. As the founder of Grouchy Puppy, I use our influence to amplify the needs and message of animal welfare organizations such as Muttville, among others. It has been a wonderful journey over the past seven years merging my love for dogs with my passion for photography and storytelling.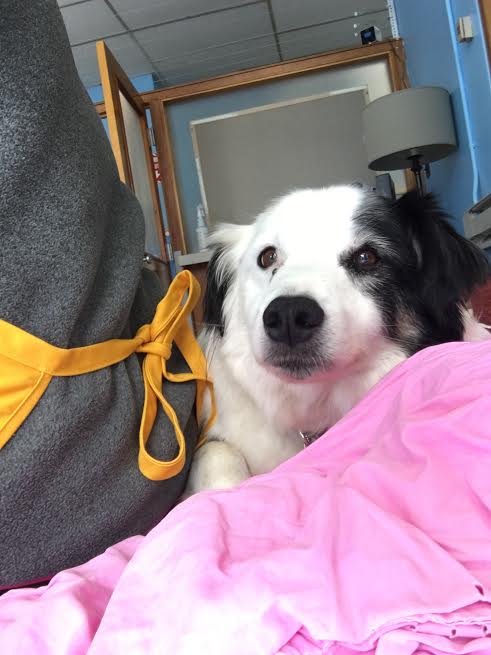 I was profoundly influenced by my Shepherd-Husky to get involved sharing how the human-dog bond is demonstrated by dogs and those who love them. We had many wonderful years together doing just that here in San Francisco. When she passed away almost two years ago, while the loss was expected, she left a very large hole in our life and home. I felt adrift after spending so much time with her.
Then tragically, as I was getting used to the new pace and my ability to focus on my elderly parents, they both pass away in two different states, and six weeks apart. I couldn't believe it and spent the holidays numb to the world. But you know, my memories of caring for my old dog and our time together returned. I remembered how funny she was as an old lady, how sweetly loving she was for any little treat or soft snuggle.
By the start of the new year I knew what I needed. I knew the best medicine for my losses was spending time with old dogs. We weren't ready to adopt a new dog yet, and I wanted much more than a tax deduction from a donation! I wanted, needed, to experience real dog engagement. I had muscle memory of those days caring for my dog that were calling to me. The satisfaction of a good outing, a healthy poop, or a relaxing brushing session were all hallmarks of a great day.
If you can't adopt, then foster. If you can't foster, then volunteer. And if you can't volunteer, then donate.
I believe everyone gets more from volunteering when your expectations are clear at the start. My volunteer orientation included only one other person like me, someone needing to feel that special appreciation only old dogs offer. The others were mostly people who couldn't have a dog but wanted to spend time with them, and help them get adopted.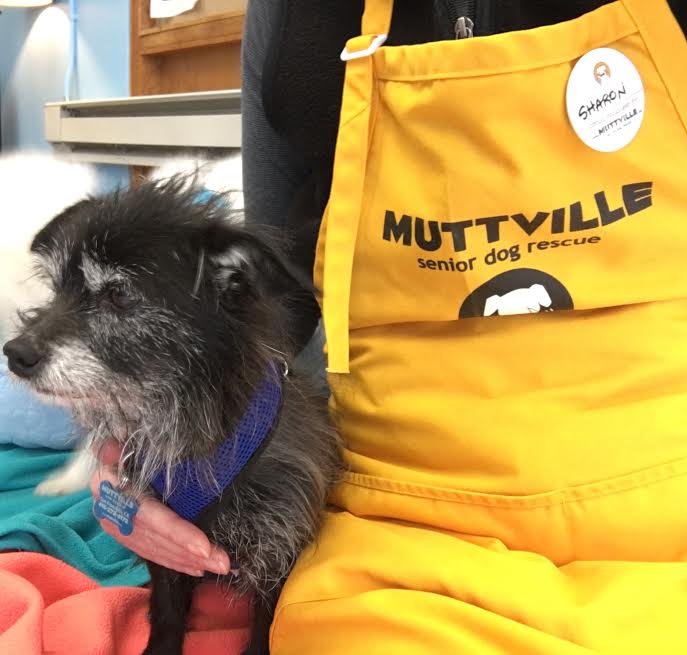 For me, what is powerful about volunteering is that I get to be reminded each week of all the joy that I had with my dog. I don't feel sad anymore. I can separate my memories of her, and our joyful years together, with the daily care. I don't think about the twice daily insulin injections anymore, or worrying about her stumbling on stairs or the curb. Now I only think about her smiling face, or racing down the beach to bite the water.
Now, I'm doing all the caregiving that I used to only do just for my old dog, but for many more, in one day. It feels like I'm amplifying the love I carry for her, by sharing my skills, patience, and adoration for this revolving crew of sugar faces. It feels good to offer these old dogs my confident knowledge that they are loved, and will only know this deep devotion in the final chapter of their life.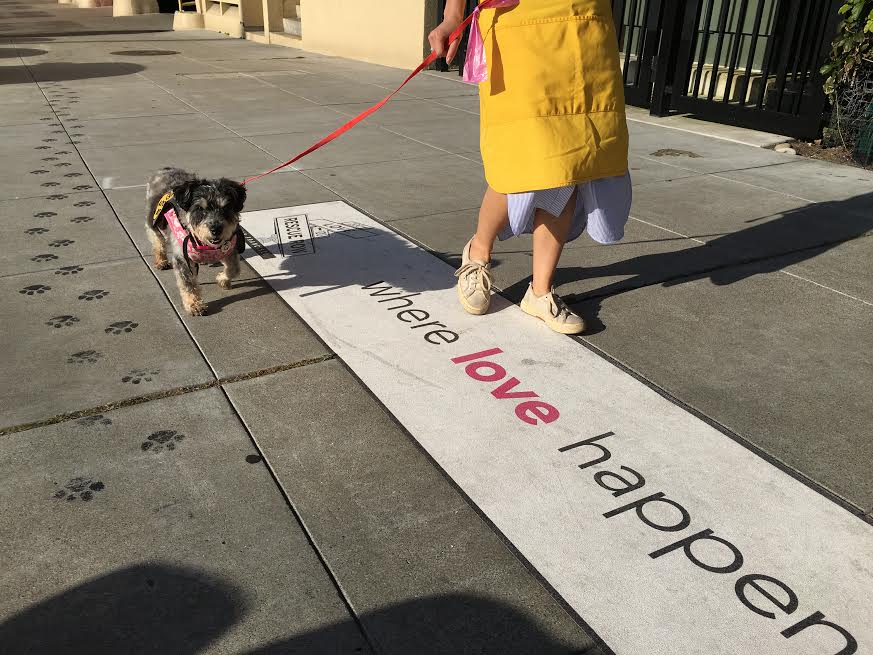 It's been incredible how spending this time with these old dogs has helped me adjust to loss. I don't complain about my aches and pains, or my poor vision when they are around. Every morning that I am in the Muttville doggy loft, my spirits are lifted by a dog's example. It's important to make every day count. Helping these old dogs have one more good day is a wonderful opportunity for me to demonstrate the power of the human-dog bond, and the positive influence of dogs. To be honest, they have been my own personal therapists helping bring out the best in me. 
The Grey Muzzle Organization improves the lives of at-risk senior dogs by providing funding and resources to animal welfare organizations nationwide, including Muttville.
About the Contributor: Sharon Castellanos founded the Grouchy Puppy® dog blog in response to negative attitudes towards big dogs, adopted dogs, and senior dogs. Grouchy Puppy shows how the positive influence of the human-animal bond is demonstrated by dogs and those who love them. Its purpose is to elevate the conversation about dog adoption and senior dogs, and to change antiquated beliefs. Each week Grouchy Puppy shares thought-provoking stories, senior dog adoptions, worthwhile special events, interviews, and lots more across its social media channels.