Twitter
Facebook
Google Plus
Pinterest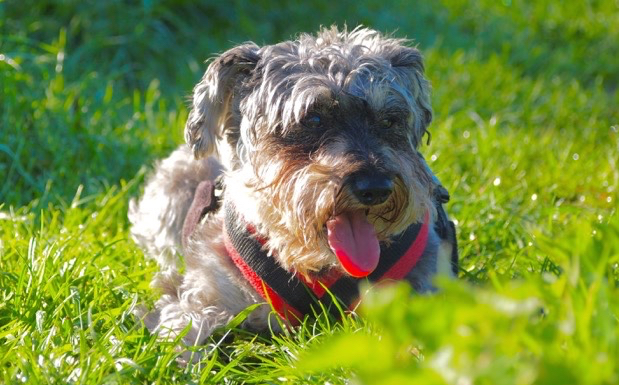 Janetta Harvey, author of Saving Susie-Belle and Saving One More, is a writer and commentator on the international puppy breeding industry. Susie-Belle, her now 11-year-old Schnauzer, was rescued and adopted four years ago after having spent most her life in a dog breeding facility.
When Susie-Belle joined our family in August 2011, she could have had no idea of the impact her life would have on us. But then neither could we. She'd spent her entire life up to that point - estimated to be around six or seven years - in a Welsh puppy mill. We adopted her knowing full well that being a survivor of the nasty end of the breeding industry would bring more than the average set of issues rescuing a dog might entail. We were prepared for our lives to change in order to give her the life she deserved, one which she'd waited many years for. However, what I didn't realize was the complete takeover of mine that would follow. 
Once the full, horrific extent of the physical and emotional damage inflicted on Susie-Belle by those who had profited from her was really understood, I knew that I couldn't turn away from the millions of others still trapped. Seeing Susie-Belle recover from years of trauma and blossom into a true and in-all-ways-beautiful dog starkly brought home to me that most dogs with her background will never have that chance. My eyes were already open when Susie-Belle came to us, but through her grace and courage, she's made sure they don't close. I now spend my life campaigning to end the industry that blights the lives of so many dogs and by writing about our life together in my books,
Saving Susie-Belle
and
Saving One More
. I hope I'm making a useful contribution.
Susie-Belle's first year or so living in our family taught us many things about what it's like to take a dog that has lived her entire life cooped up in a cruel environment, devoid of caring human contact, and to place her into an alien world - a world where love and care is normal, but utterly confusing and frightening to an animal that has known only cruelty from mankind. In her years of confinement, Susie-Belle had endured a depth of abuse and harm that, in my darker moments, I doubted she could ever properly recover from. But bit by bit, not only did she learn how to live a normal life in her new home, we came to learn what she truly needed. Together we muddled along, doing our best, winging a lot of it, hoping to avoid too many mistakes as we went. As we tuned into a shared wavelength, we picked up more of what she required and subtly adapted our ways to help her.
We've always been determined not to smother Susie-Belle, tempting as it was in the early days to keep her out of the busy modern world around us. We've shared lots of mini adventures to help her develop: walking on blustery beaches for the first time in her life; visiting the city; regular days out walking with human and canine friends; swimming with me in the lakes and rivers in south west France where we spend the summer months; attending book signings, literary festivals and fun dog shows. With everything we've done, her confidence has grown; bad old memories have been replaced with new, solidly pleasant ones. 
We've provided the time, care and love – plenty of each – she's needed in order to heal but really, she's done the rest; she's done the hard work. She's learnt to trust us with just a few shoots of confidence appearing at first, not a lot, but enough in the beginning to help convince her, and us, that together we were on the right path. Over time, those nascent signs of recovery have strengthened, and we've seen a gentle blossoming of Susie-Belle's true, adorable nature.
If we thought after a year she was happier than she'd ever been before, after eighteen months we knew she was a completely different dog to the fragile, subdued one who had first arrived in our world. No longer did we need to search for signs of contentment, it was beyond any doubt that she now enjoyed her life. Indeed, she not only did so, but remarkably she's learnt to communicate her happiness to us in ways it was once unimaginable she would.
Each day now, from the moment we wake, she's engaging with us, cajoling us to get moving with breakfast and a walk. She holds eye contact confidently, which was once unheard of, and speaks with her beautiful, expressive eyes more than any dog I've ever come across. Now I know that when she's happy her eyes sparkle with a luminosity that's unmistakably powered by pure joy; when worried, this dims, her eyes narrow, and I see we need to pay attention to what's bothering her. Susie-Belle's eyes reflect her mood and thoughts and she's found a way, with me in particular, to communicate her inner self and needs through them.
The pleasure of being part of Susie-Belle's intimate world hasn't dimmed through passing time and familiarity. Four years on, and my love for her continues to deepen with each special moment of understanding we share. She's worked out how to manipulate most humans she comes into contact with, and I celebrate this with unbounded joy. Gratitude wells deep within me when I reflect on how comfortable she now is in our world, living freely, on her terms. She's my muse, my constant companion, my brave, sparky, and oh-so-curious-about-life dog.
Although she's now well into her senior years, and has many health issues due not only to age, but to the hard life she endured in the puppy mill, she appears to defy time and is determined to make the most of all life offers her. I'm happy to ensure she gets all the opportunities for joy that I can rustle up. She waited a long time for her life to start.
You can read more of Janetta Harvey's writings here.
The Grey Muzzle Organization improves the lives of at-risk senior dogs by providing funding and resources to animal shelters, rescue organizations, sanctuaries, and other nonprofit groups nationwide.
About the Contributor: 
Janetta Harvey
 is a writer and commentator on the international puppy breeding industry. She is author of
 Saving Susie-Belle, 
a personal account of the life she shares with her adopted dog, Susie-Belle, a survivor of years spent in the worst end of the commercial breeding industry. The recently released sequel, 
Saving One More 
examines the global nature of the puppy business and updates readers on life shared these days with Susie-Belle's adopted canine sister, Twinkle, another rescued breeding dog, severely damaged by her years of imprisonment in a UK puppy mill. She is currently working on a book for children, the puppy buyers of the future. Janetta lives with her husband, Michel, Susie-Belle, Twinkle and their canine sister, Renae in England and France.