Twitter
Facebook
Google Plus
Pinterest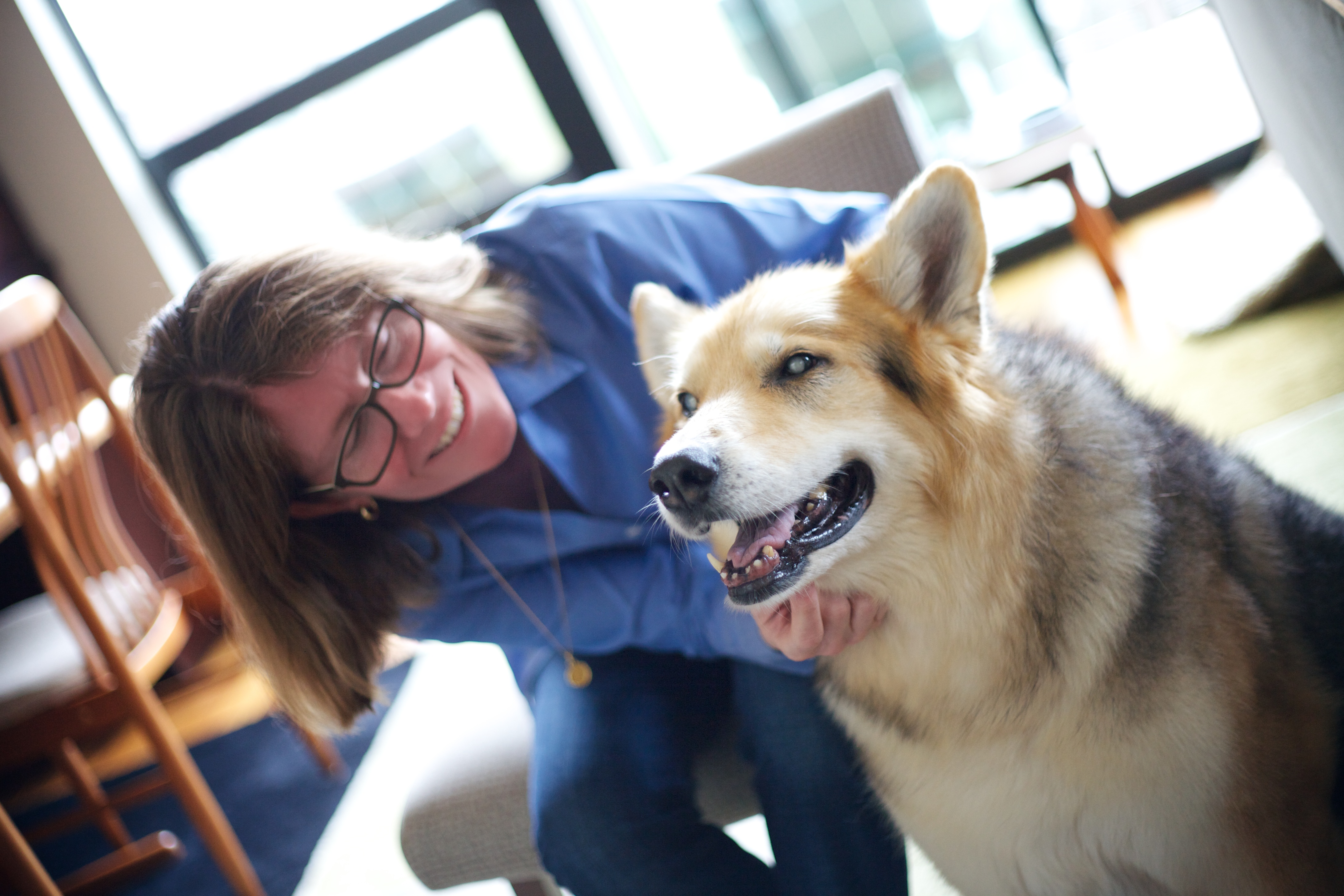 "When we love dogs, we love them all the way. The experience is all-encompassing as you enjoy the highest highs, the lowest lows, and everything in between, during your time together, however long" (Grouchy Puppy). Since 2009 Grouchy Puppy, an award-winning blog, has hosted San Francisco Bay Area writer Sharon Castellanos's funny, poignant, almost philosophical observations about the human-animal bond and our remarkable relationship with dogs. The blog was largely inspired by Cleo, Sharon's adopted Husky-Shepherd mix, and through its posts, Sharon has become a frank and eloquent advocate for dog adoption, and the lovely, grey-muzzled Cleo a poster girl for senior dogs. As Cleo has gotten older, Grouchy Puppy has also been an important source for insights into the joys and sorrows of loving senior dogs: appreciating their attitude toward life, accommodating their illness and disability, recognizing the gift of caring for them, and most recently, mourning their loss.
Grouchy Puppy'
s motto "Give Fearlessly, Influence Positively" is a tribute to the special love that dogs inspire in and offer to their human companions. "Dogs hold a unique place in our world. They have a connection to humans unlike most other mammals or animal species. In my opinion, they offer humans a chance to become better - because of them, we are humane"
(
Grouchy Puppy
). The humaneness that dogs can elicit is explored in
Grouchy Puppy
'
s
profiles of animal welfare leaders, therapy dog teams, and other extraordinary human-dog relationships, but has also been a theme of vignettes in which Cleo acts as an ambassador for canine-kind, at home and on the streets of San Francisco.
Cleo, whose eight-year "Homecoming" anniversary they celebrated a year ago, was adopted by Sharon from the San Francisco SPCA as an adult. Although Cleo ultimately proved to be a perfect fit with the Castellanos family, Sharon has often reflected on the fact that their bond wasn't instantaneous. For her, the lesson in this lies in their patience and trust, as the chance she and Cleo took with each other paid off in a way she never imagined: "She's been a gift. Our life together is a result from taking a leap of faith. We both had to let go of our fears and trust in each other. As our behavior changed, so did the outcome -- we've built a beautiful bond and the memories of our years together are a bridge that I believe will always connect us"(Grouchy Puppy).
While one of Sharon's initial goals for Grouchy Puppy was "to change tired, antiquated beliefs" about adult large-breed dogs, she has increasingly focused on senior dogs. "Life with my old dog is rich, complex, and oh so worth it," Sharon wrote in an homage to Cleo. Sharon has shown that precisely at the age when dogs, like humans, are at risk of becoming 'forgotten' family members, they can be the most interesting and have the most to . "A senior dog, like a person, has gone through more and has a richer memory to draw from. Cleo is no exception, and her personality and interaction with us reflects her age. She is far more dynamic and multi-faceted than even two years ago"(Grouchy Puppy).
A promoter of senior dog rescue and San Francisco's Muttville Senior Dog Rescue in particular, Sharon has used her blog to address misconceptions about adopting older dogs. Even as she anticipated losing Cleo, she dispelled the notion that letting a senior dog into one's life only leads to heartbreak. "Cleo not only works tirelessly to give us imagery, hairy mementos, and good times that are forever etched in our minds and hearts - she teaches us life lessons that we can apply to our human friends and family. She has ensured her legacy will live on in us, and many others far and away. Cleo's body will depart but not her presence"(Grouchy Puppy).
Among the "life lessons" that Cleo has imparted, some of the most profound have centered around responding to illness and the challenges of aging with grace. "Over the years, our dog has taught us about diabetes, life as a senior citizen and now blindness. In a topsy-turvy world or lost Twilight Zone episode, I'm the teacher's pet"
(
Grouchy Puppy
)
. Sharon has noted that there is a particularly important lesson in an older dog's ability to enjoy the simple pleasures of being a dog – going for a sniff, being with loved ones, finding a stray crumb on the floor. "My old dog shows that it is possible to age gracefully.... I'm learning that if I live in the now then how can I carry regret. She is helping me learn that it can't be so bad if we're surrounded by loved ones when it is time"
(
Grouchy Puppy
).
As readers of Grouchy Puppy and fans of Cleo, we had some questions for Sharon, which we recently got the chance to ask.
You wrote that your special bond with Cleo wasn't immediate. Was there a moment that you realized that she was meant to be a part of your family or that she was, as you put it, your "heart dog"?  
 
When we adopted Cleo, that day I had a mental handshake with her. In my mind, by bringing her home that night, we made a binding social contract to care for her until the end. That was as deep as I got for months with Cleo. I honestly was a little scared. She was so pretty and such a pleaser, eager for love, that when we adopted her the SF/SPCA warned us to never tie her up in front of a shop or leave her unattended, that someone would steal her!
 
It had been months of me wondering if I was doing enough so that she would see me as her family, and see herself as part of our family and home. She was submissive but I wanted her to cooperate and listen because she trusted me, not because she feared me. But I do remember clearly the day she chose not to leap forward independently but stayed back against my legs, instead looking to me for guidance on what her action should be. My heart almost burst when I looked down at her face and body language that said "I've decided to trust you." That day my heart was a goner.
What surprised you about your readers' response when you s
tarted sharing Cleo's story?
As a kid if it meant I could connect with someone, and feel that I wasn't alone in whatever I was going through, I would share personal information. Sometimes to the chagrin of my mother. Fast forward to life with Cleo, and I'm writing intimate details again about what I'm going through. Rather than simply responding with platitudes, from the start readers have written thoughtful comments, and often shared incredibly personal stories. I got an email today from someone who just had to euthanize her old dog. She wanted to thank me for sharing my Cleo stories, that they had brought joy and that they made her appreciate her own grouchy puppy. I'm so grateful for our connection through Grouchy Puppy. Publicly sharing my own experiences with Cleo has helped me realize I'm not alone on this emotional rollercoaster. There are a lot of people out there who have and love old dogs.
You mention that you started your blog in order to overcome outdated beliefs about dogs. Have you had any breakthrough moments with changing attitudes?
It's been wonderful sharing the many parallels between an aging dog and a parent or grandparent. Some have told me they never realized a dog could develop and live with diabetes. A great comment I read was from a reader who realized that dog walks with an older dog were about being together, getting out not getting somewhere. Since I began the blog, it's made me happy to see how many more therapy dog programs are out there filled with adopted and older dogs.
You do 'Influence Positively' interviews with leaders in dog rescue and care, do you have a favorite answer to one of your questions or a favorite interview?
 
That is a tough one! One has stuck with me because her answer wasn't what I was expecting at all to the question "Who are your heroes in real life?" Shreve Stockton, who you might know from The Daily Coyote, answered "Those who plant seeds - both in the dirt and in the mind." I like that.
 
I love all of the interviews because they are each personal and unique to the interviewee, however, if I had to choose, it would have to be two interviews, Mike Arms and Richard Avanzino. Both are influential charismatic leaders in animal welfare. In their own unique ways they are bringing about a more humane future to our country. Both understand that to effectively make a difference in the lives of animals, you need more than good intentions and more than love for animals. They offer interested people and rescues the business tools and resources needed to affect meaningful change.
What would you tell someone thinking of fostering and adopting an older dog?
I would offer the analogy of caring for a grandparent. You have an opportunity to experience quiet reflective moments often impossible with a puppy. Unlike most Asian countries, families here don't typically have multiple generations living under one roof. Fostering or adopting an older dog gives you and your family that chance. Since she entered her golden years, Cleo has shown us how to savor every moment, to be become more Zen-like in our approach to life.
In the weeks since we interviewed Sharon, Cleo's condition worsened to the point that Sharon and her husband decided it was time to let Cleo go. Sharon has written that they made sure Cleo's final moments were at home with those she loved, and she has shared the beginning of her grieving process with her readers: "For the past three years, since her diabetes diagnosis, I began to prepare in earnest for this loss, weaving Cleo into my heart and soul, petrified her departure would inflict a mortal wound. Time will tell how I did, and whether I can find my way back to that happy place. But I'm hopeful, because even in my pain and tears, I feel her positive influence all around"(Grouchy Puppy). Grouchy Puppy continues, as part of Cleo's legacy, to provide a voice for senior dogs and those who love them.
Grouchy Puppy is a vocal supporter of San Francisco's Muttville Senior Dog Rescue. Find out more about Muttville and the rest of Grey Muzzle's grantee organizations by visiting our Who We Help page.
The Grey Muzzle Organization improves the lives of at-risk senior dogs by providing funding and resources to animal shelters, rescue organizations, sanctuaries, and other nonprofit groups nationwide.
 
About Sharon Castellanos: Sharon Castellanos is a writer and consultant living in San Francisco. She is the founder and publisher of Grouchy Puppy, a website and series of social media channels dedicated to celebrating how the human-animal bond is demonstrated by dogs and those who love them. Inspired by her heart dog Cleo, she is passionate about elevating the conversation about senior dogs and dog adoption. You can find her frequently online engaging with the many dog lovers that make up the Grouchy Puppy community.
Interview and profile by K.E. Magoon, Grey Matters Blog Manager and Editor