Twitter
Facebook
Google Plus
Pinterest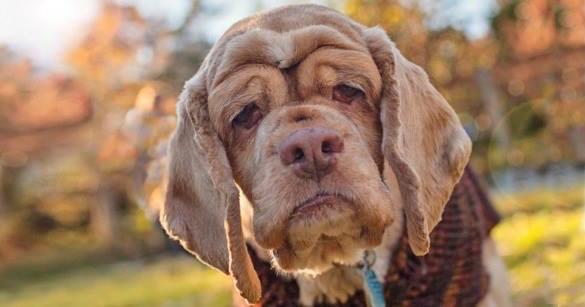 The new book My Old Dog: Rescued Pets with Remarkable Second Acts by Laura T. Coffey and Lori Fusaro (photographer) offers a collection of stories about senior shelter pets finding love—and sometimes fame. Among the dogs featured in the book are dogs rescued by Grey Muzzle grantees Old Dog Haven and Muttville Senior Dog Rescue. Laura and Lori were interviewed about the book, and excerpts from their interview are reprinted here with permission from New World Library.
Why did you want to publish a book about senior dogs?
Laura Coffey: Senior dogs are awesome. They're calm, mellow, sweet, loveable, and they're usually already house-trained. All of these traits make them so much easier than puppies. Dogs in this "golden age" — over the age of about 6 or 7 — often make ideal pets for people with busy lives or for people who simply want snuggly, tranquil companionship. That said, as wonderful as senior animals are, they often represent the highest-risk population at shelters across the United States, where about 3 million dogs and cats are put down each year. We wanted to do this book to help change people's perceptions of these fantastic older animals.
Lori, you met Laura when she wrote an article about your project photographing older shelter dogs. What sparked your interest in homeless senior dogs?
Lori Fusaro:
I've always been drawn to the underdogs — the animals who have special needs. My first cat only had one eye. Something about an animal that others might overlook has always made me want to love that animal. Old dogs are so overlooked and they have so many stigmas to overcome. It makes my heart ache and want to make sure they are loved.
What do you think makes senior dogs special?
Lori: Senior dogs are so wonderful. They're just like younger dogs, but they somehow know that they have been given a new lease on life. My senior dog Sunny showed her love for me every single time I came into the room. It's like she knew I rescued her from early death. She freely gave kisses and followed me around everywhere. It's like they know, and they just want to let you know how grateful they are to you. Also, old dogs live in the moment. They are happy to sleep. They are happy to go for a walk. They are excited to eat. They go with the flow. They seem to relish each day, no matter what is going on.
Lori, how do you help find senior dogs find homes through your photographs?
Lori: I've volunteered in shelters for years, and with every dog I photograph, I try to bring their personality to the forefront. If they love toys, I want to see them playing and having fun with balls and stuffed animals. If they are couch potatoes who love lounging on the sofa, I want to show that in a way that makes them look just too adorable to pass up. The most important thing to me is showing their zest for living and what makes them special. By seeing that side of a senior dog, people are more likely to realize that they are just like other dogs. They might be a little bit slower, but they still have all the wonderful qualities that make dog lovers love dogs to begin with.
How did George Clooney come to be featured in "My Old Dog"?
Laura
A) George Clooney is a very cool guy, and B) he adopted an older cocker spaniel named Einstein who has chronically dry eyes and a thyroid condition and who got pulled from a shelter by a fantastic organization called Camp Cocker Rescue. Camp Cocker volunteers rehabilitated the morbidly obese dog and helped his true personality to emerge — and then they made an adorable video about Einstein. George Clooney told us he spotted the video online and instantly fell in love with his future dog.
Our chapter about Clooney's adoption of this dog includes all sorts of details that have never been reported or shared anywhere, and many of them are hilarious! We are so grateful to George Clooney for being such a good sport and participating in this book project. He really did do a great thing when he adopted Einstein, and he set a wonderful example for others who might be in the market for a new pet.
My Old Dog: Rescued Pets with Remarkable Second Acts can be purchased online via Amazon, Barnes & Noble, and at independent bookstores near you. You can read a chapter from the book on our blog: A Match Made in Heaven (Excerpt from "My Old Dog").
The Grey Muzzle Organization improves the lives of at-risk senior dogs by providing funding and resources to animal shelters, rescue organizations, sanctuaries, and other nonprofit groups nationwide.