Twitter
Facebook
Google Plus
Pinterest
Swiss Miss, a shih tzu mix, came to Muttville Senior Dog rescue from a nearby shelter where she ended up after being found as a stray. This happy and easy-going senior dog had mobility issues and pain caused by badly matted, dirty fur and could not see because her eyes were crusted shut. It was clear that this sweet older gal, who was estimated to be approximately ten years old, had received little to no medical care over the course of her life. Swiss Miss had not been spayed and had developed mammary masses.
Due to the size and number of these tumors, the Muttville medical team determined that the tumors would be biopsied after removal. Sadly, the biopsy results showed that Swiss Miss has an aggressive, malignant cancer. She also has KCS, meaning that her eyes do not produce enough tears naturally, which requires life-long eye medications.
The Grey Muzzle Organization supports the Muttville veterinary team's work to evaluate senior dogs for their hospice program. Because of her multiple diagnoses, which include medial patellar luxation, arthritis, KCS and malignant cancer, the veterinary team determined that there is a low likelihood that she will live much longer than a few months to a year. So, Muttville made her available for hospice adoption, which includes monitoring her mammary masses and taking Swiss Miss to the veterinarian periodically for check ups.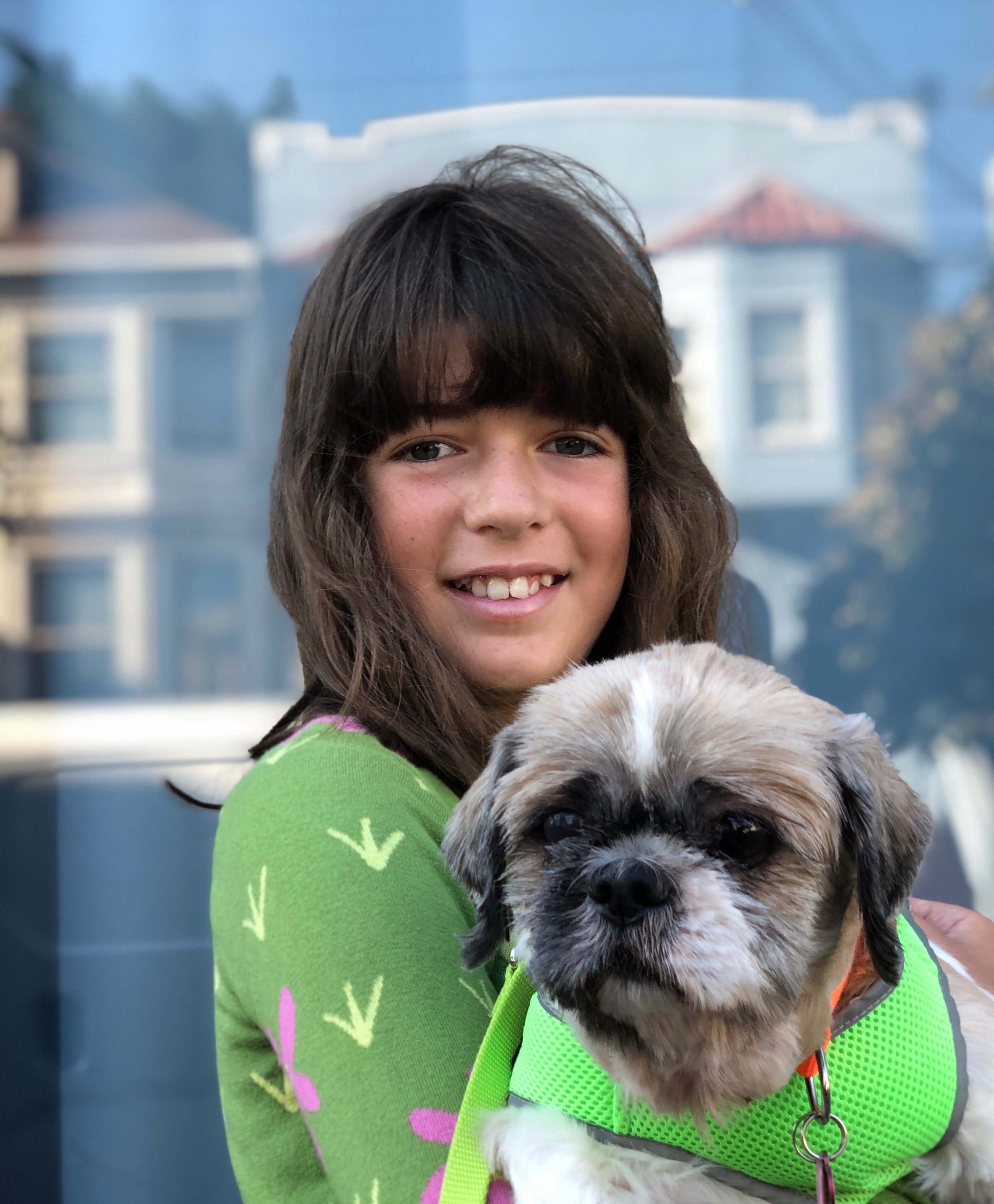 While awaiting her hospice home, Swiss Miss went into foster care with a wonderful family who fell in love with her and decided to adopt her through the hospice program. Muttville's veterinary team provides guidance and support to these first-time hospice caregivers, while they also partner with the family's chosen veterinarian to support Swiss Miss' hospice care. Swiss Miss may not know that she is older or in hospice, but she does seem to know that she is safe and loved. She is living the remainder of her life pain-free, adored, napping, cuddling and enjoying being the subject of her human sister's amazing artwork.