Twitter
Facebook
Google Plus
Pinterest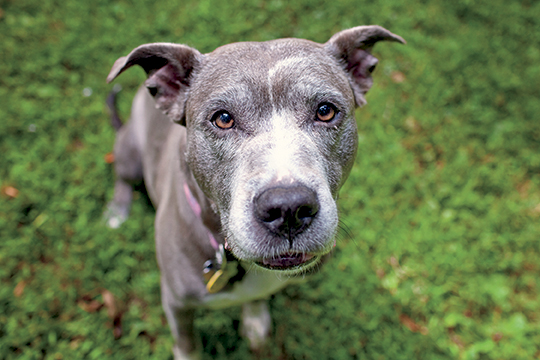 This story is an excerpt from the new book My Old Dog: Rescued Pets with Remarkable Second Acts by Laura Coffey with photos by Lori Fusaro. My Old Dog offers a collection of stories about senior shelter pets finding love - and sometimes fame. This excerpt is reprinted with permission from New World Library.
It's not every day that three women in their seventies and eighties walk into an animal shelter and tell the executive director they'd like to see a dog nobody wants. But to Sisters Veronica Mendez, Virginia Johnson, and Alice Goldsmith, nuns from Sisters of Our Lady of Christian Doctrine in Nyack, New York, their request made perfect sense. Why not adopt one of the animals most in need? 
But to Sisters Veronica Mendez, Virginia Johnson, and Alice Goldsmith, nuns from Sisters of Our Lady of Christian Doctrine in Nyack, New York, their request made perfect sense. Why not adopt one of the animals most in need?
That mind-set led them to Remy, a nine-year-old pit bull that had been overlooked by shelter visitors for more than three months. "As soon as I saw the sign that said Nine Years, I said, 'This is the one. No one is going to want this one,' " recalled Sister Veronica, a vivacious seventy-one-year-old with iron-colored hair and a no-nonsense demeanor.  
The nuns' connection with the dog was immediate. Remy was docile. Remy was sweet. And when given a moment to mingle with the sisters at the shelter, Remy leaned her head into Sister Virginia's chest and sighed. "She just got right up there," said Sister Virginia, seventy-nine. "She said, 'This must be my new family.' "  
For the nuns, a four-legged addition to their small, no-frills convent could not come fast enough. They were grieving the loss of their dog Kate, a gregarious seven-year-old mutt who had been a boundless source of energy and comedy in their lives.
Kate had left them too quickly. On a Friday, she went on a four-mile walk with Sister Veronica. On Saturday, Kate's groomer spotted some unusual lumps. On Sunday, Kate was lethargic. A few days later, she was ailing so much from lymphoma that the veterinarian put her down. "She was healthy one day and then, all of a sudden, lymphoma?" Sister Veronica said. "I was furious. I was so angry. I cried! Oh, how we loved that creature."  
The sisters rattled around their house crying for one week before they decisively hopped into their car. Their mission: rescue a shelter animal on death row. Minutes later, they explained their goal to West Artope, executive director of the Hi Tor Animal Care Center in Pomona, New York. West liked these women. He learned that Sister Alice was eighty-seven and that Sister Virginia, while statuesque and spunky, often needed a walker to get around. His mind raced and made a hopeful connection: Remy. Calm, gentle, unadoptable Remy.  
Bingo.  
"It just worked out so well," West said. "We did a follow-up with them and went to the house, and the dog is so comfortable in that environment you wouldn't believe it. It was like a match made in heaven."  
The nuns said they weren't concerned that Remy was a pit bull — they could tell how good-natured she was. And even though they were reeling from Kate's death, they decided not to dwell on Remy's age, either. "Our feeling was that she was in danger of being euthanized, and we wanted to give her the best three or four years she has left," Sister Veronica said. "Here we are, three senior sisters, so we adopted a senior pet!"
Between the three of them, Sisters Veronica, Virginia, and Alice have spent 179 years serving as nuns. Their main mission has been religious education for children  and adults up and down the East Coast. "It's a great life," said Sister Virginia, a nun for sixty-two years. "I wouldn't change it."
They love living in Nyack because of Hook Mountain, the Hudson River, and other natural wonders that surround them. "It's the perfect place to pray because you stand here and see all of God's beauty," said Sister Alice, a serene woman of few words. Sister Veronica agreed; she likened looking at the mountain to "praying without realizing it."  
Veronica loves having a dog to take along on contemplative walks and hikes. Remy also gets to romp in the tree-filled backyard, play with scads of toys, and luxuriate on soft dog beds in multiple rooms of her new, comfortable home. Remy quickly earned a nickname — Thumper — because of the happy way her heavy tail goes thump, thump, thump whenever one of the nuns approaches her or rubs her stiff left hip.
Sister Virginia said Remy's contentment reminds her of foster kids she helped years ago as a social worker. When those children clicked with their adoptive parents, they showed an unmistakable sense of tranquility and relief.  
"Remy did that with us — she sensed, 'These are going to be my people. I can tell,' " Virginia said. "And we knew this was our dog. We could tell."
You can find this story along with many others in the new book My Old Dog: Rescued Pets with Remarkable Second Acts. This excerpt was reprinted with permission from New World Library. Text copyright © 2015 by Laura T. Coffey. Photograph copyright © 2015 by Lori Fusaro. 
The Grey Muzzle Organization improves the lives of at-risk senior dogs by providing funding and resources to animal shelters, rescue organizations, sanctuaries, and other nonprofit groups nationwide.  
About the Contributors:
Laura T. Coffey
is a longtime writer, editor, and producer for
TODAY.com
, the website of NBC's TODAY show. An award-winning journalist with more than two decades of experience, Laura has written and edited hundreds of high-profile human-interest stories. She lives in Seattle, Washington. 
Lori Fusaro
is staff photographer at Best Friends Animal Society in Los Angeles and owner of Fusaro Photography, whose clients include BAD RAP, Guide Dogs for the Blind, k9 connection, Angel City Pit Bulls, and other animal rescue organizations. She lives in Los Angeles.