Older dogs are too often overlooked by potential adopters at shelters and rescues. However, those who adopt senior dogs find them to be wonderful companions — more mellow, better mannered, and quicker to adjust to their new homes than younger dogs.

Whether you have been considering adopting an older dog for a long time or were just recently inspired by the story of one in need, your new grey-muzzled best friend may be a hop, skip, and a few clicks away.
How to Find Adoptable Senior Dogs

Senior dogs can be adopted from municipal and county shelters, humane societies, SPCAs, rescues, and sanctuaries, all of which commonly list their available dogs on pet adoption websites. These websites allow you to search by age group and location, in addition to size, breed, gender, and more. They usually include a description and photo of each dog. (Most shelters and rescue organizations list dogs over 7 years of age as "senior.") You can search for pets anywhere in the United States and Canada, with those nearest to you appearing first.

Adopt-a-Pet describes itself as "North America's largest non-profit pet adoption website," while Petfinder claims to host listings from more than 12,000 adoption groups from the U.S. and Canada. Adoptable pets can also be found with searches via All Paws, Petango, and the ASPCA's shelter database. UK residents can try Pet Adoption UK or visit the Oldies Club website.
If you don't find your perfect companion with your first online search, don't be discouraged. Listings change daily and you can also use your search results to find the names of local organizations that tend to have older dogs available for adoption. Shelters and rescue organizations (especially smaller rescues that depend on volunteers) can't always update their external listings regularly, so visiting their websites or following them on social media can provide more options.

If you do an online search for local rescues, you will likely learn about wonderful local organizations you never knew were there. You might even discover that you live near a rescue or sanctuary specializing in senior dogs! For additional information, check out The Grey Muzzle Organization's Who We Help page. It lists by state the organizations to which Grey Muzzle provides grants — a majority of which have senior dogs to adopt and/or foster. There is also a list and map, maintained by Resources for Dogs, showing senior dog rescues and sanctuaries, as well as some of the general or breed-specific rescues, shelters, humane societies, and SPCAs that have special programs for older dogs. See the interactive map below or visit it here.
Shelters, humane societies, and SPCAs will usually have adoption hours that are posted online. Rescues and sanctuaries (some of which are foster-based) may not have regular on-site adoption hours, so look for their weekly or monthly adoption events, such as at large chain pet stores like Petco and PetSmart. Most communities also have annual adoption events with participants from multiple local rescues. If you live in or near a large city, you can also check whether a Pet Expo, featuring dozens of rescue groups, is coming to town.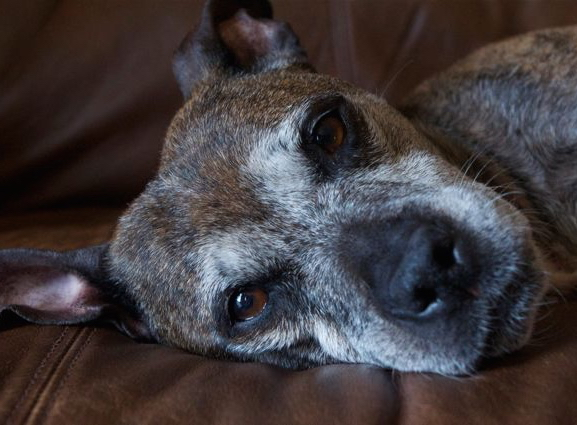 Anxious to begin your adventure with your new companion? If you visit a shelter, humane society, or SPCA during their adoption hours, you may be able to go home with your new senior dog that day. However, if you inquire with a smaller rescue about a particular dog, don't be surprised if you don't hear back immediately. Rescues don't always have the staff or volunteers to respond to every inquiry promptly. Send an email, and if necessary, follow it up with a phone call and voice message. If you are open to adopting a dog that the rescue thinks would be a better match, let them know. The more information you provide about you, your household, and what you are looking for, the easier it will be for them to help you find the right dog for you.

Finally, you can follow the wonderful Susie's Senior Dogs Facebook page, which helps senior dogs awaiting adoption nationwide get more exposure. You might learn of an older dog in need near you or of one you can share with a friend in another state; and at the very least, you will read some great stories of senior dog adoption!

Where to Adopt

You will find wonderful older dogs in need at most shelters, humane societies, SPCAs, and rescues, but how you go about finding your future companion and completing the adoption will partly depend on the type of animal welfare organization from which you choose to adopt.

Municipal and county shelters are typically "open intake," which means they accept all animals that are brought to them. They are tasked with caring for surrendered and lost pets, abuse and neglect cases, and in some cases, even hurt or displaced livestock and wildlife. Some have special senior dog care or adoption programs, but more often they find it difficult to give senior dogs the special care and attention they need, and their older animals are the most at risk when space runs out (see Grey Muzzle's report Old Dogs and Animal Shelters). Municipal and county shelters tend to have easier adoption procedures and lower fees than other organizations.

Humane societies and SPCAs vary considerably, as they are independent, privately-run nonprofits, and are not directly affiliated with a larger group, though some contract with a city or county to provide animal care and control services. They usually have shelter facilities, but may limit or otherwise manage the pets they take in so that they can better meet the needs of the animals they care for and avoid putting dogs at risk due to overcrowding. They may also offer a variety of programs that promote animal welfare in their community and assist pet owners and adopters, such as low-cost veterinary clinics.

In general, privately-run rescues and sanctuaries limit their intake of new dogs, so that each dog has as long as it needs to get adopted. This also helps them get to know the temperament and personality of the dogs they rescue and to afford to give their dogs full medical examinations and treatment. The dogs in their care are often pulled from shelters where they were deemed "rescue only," due to a need for medical care or behavioral rehabilitation that the shelter could not provide. Many operate out of a private home or network of homes (fosters). Senior dog rescues and sanctuaries will usually have dogs available for adoption in addition to permanent foster or hospice. Breed specific rescues will be able to give you more information and support relevant to your dog's breed.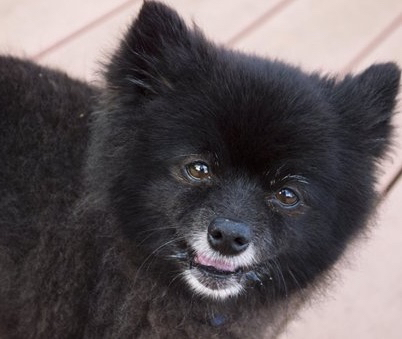 If you decide to focus your search for an adoptable senior dog at one shelter or rescue, your best bet is to do some research locally and check the websites of organizations near you. You can compare your local organizations not only with respect to the number of senior dogs in their care, but also:
Adoption procedures and fees;
Help with finding a good match;
Health and behavioral evaluation and treatment prior to adoption;
Support offered after adoption;
Policy if adopter's home proves not to be a good fit or adopter passes away (or is otherwise unable to care for their dog);
Need of the dogs in their care.
If possible, ask a friend or neighbor who has had a positive adoption experience for a recommendation.

Ultimately, although there are benefits to adopting a senior dog from a group that can provide your future dog with high-level evaluation and care prior to adoption and support for the adoption after, the senior dog that is the best match for you and your family is just as likely to be found at an open-intake shelter as at a senior rescue.
 
Find Your Match

Dogs become less active and tend to mellow as they age, but when adopting a senior dog, it is still important to consider what would make a good match for you in terms of temperament, energy-level, emotional and health care needs, and exercise requirements. A senior rescue or sanctuary may be able to offer the most help in finding the right dog for you, but large community shelters also do temperament testing, and some use a version of ASPCA's "Meet Your Match" program.

Don't be intimidated by a lengthy adoption application or questionnaire. It means that the shelter or rescue is looking for a safe, loving, and permanent home for each dog and also a good fit, so that both dog and adopter are happy. The questions are often designed to help potential adopters think through what they hope and expect when adopting a dog. Old Dog Haven in Washington reminds its adopters, "Each dog available for adoption is unique and requires a different kind of home. Our goal is to make wonderful matches so the dogs are truly home forever and so we have happy adopters."
If asked to fill out a questionnaire, you will likely be queried about your plans for caring for your new dog, as well as about your home, lifestyle, work schedule, household members, frequent visitors, and other pets — all issues which are good to keep in mind, even if you are not directly asked about them.

Also, consider whether you want a low-key companion to cuddle with on the couch, or an adventurous friend with whom to explore the world. Not all senior dogs are content to be couch potatoes any more than all older humans are, and it is generally recommended that you get a dog with an energy level the same as or lower than yourself. Any dog you adopt will need exercise and can motivate you to get out walking, but there are some dogs who will need hikes, games of fetch, or other forms of energetic play throughout their later years in order to stay happy and healthy.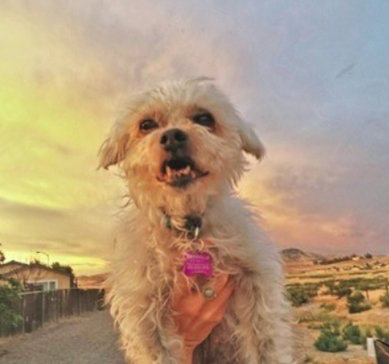 In addition to reading an available dog's listing carefully, ask staff and volunteers questions, spend time with your potential new dog in a playroom, and take him or her for a walk. Some rescues even provide the foster-to-adopt option to make sure that the home environment and adopter's lifestyle click with the dog's needs and personality. Although one of the things that makes senior dogs great is "what you see is what you get" and they tend to settle quite quickly into their new homes, any homeless dog's behavior may be affected by the stress of being in a shelter or losing their home and family, and as a result, its personality may take a couple days or even weeks to fully emerge.

Many rescues and some humane societies and SPCAs do home visits and contact current or previous veterinarians before placement. Also, as individual dogs of any age differ in how well they do with new people, young children, and other animals, it is highly recommended that you arrange meetings between your potential dog and members of your household prior to adoption.
How Much Is That Doggie...

Adoption fees range from waived fees to several hundred dollars. At many municipal and county shelters, adoption fees for senior dogs are discounted and are usually under $100. Smaller rescues tend to have the highest adoption fees, often to offset the cost of expensive medical care or training for dogs needing rehabilitation.

Some shelters and rescues participate in national adoption promotions sponsored by organizations such as Best Friends Animal Society by offering discounted adoption fees for special occasions. If you are a senior citizen yourself, keep an eye out for seniors-for-seniors programs which discount or waive adoption fees when seniors adopt senior pets. For instance, at Muttville Senior Dog Rescue (a Grey Muzzle grantee in San Francisco, CA), anyone 62 or older can have the $200 adoption fee waived and receive an adoption kit.
If you are adopting from a responsible shelter or rescue, your dog will have received a basic veterinary exam and updated vaccinations (and spay-neuter, if needed), which will be covered by the adoption fee. Some organizations may need to skip more expensive tests, so if potential health problems are a worry for you, you may want to ask about their medical evaluation procedures. Other rescue groups, in addition to treating dogs for any life-threatening illnesses, treat for common ailments of older dogs, such as dental disease and skin growths, before making senior dogs available for adoption. Occasionally, microchipping, a month's supply of medication, a bag of food, or other supplies are also covered by the adoption fee.
Be an Old Dog's Hero

If you are considering adopting a senior dog, you likely not only want a wonderful companion, but also want to transform the life of a dog in need. For every old dog that gets its own viral social media post, there are thousands more just as endearing, with stories equally poignant, and you will find them right in your own community.

Regardless of where you adopt, you will be a homeless dog's hero. Open-intake shelters have the most difficulty marketing senior dogs, which are then at risk when the shelter is overcrowded. However, every dog adopted from a shelter or rescue of any kind opens up room for that organization to rescue another. (For more about how old dogs become homeless, read our article.)

Most shelters and rescues have older dogs that have been routinely overlooked, often for superficial reasons. If you want to help the dog with the greatest need, have an honest conversation with shelter or rescue personnel about dogs that have been there for a long time to see if your home is a good match for one of them. And remember, some of the best dogs may require a little extra work.

If you determine that you are not ready to adopt but still want to care for an older dog in need, you might want to contact your local rescue or shelter to ask about senior dogs that require short-term, long-term, or hospice foster care. Foster families are typically expected to pay for food and are responsible for getting dogs to veterinary appointments and giving medications or other daily supplementary care, while the rescue or shelter pays for the veterinary care, including vet visits, treatment, medications, and supplies.

If you cannot adopt or foster, there are still ways to help homeless senior dogs. For instance, you can volunteer for or donate to a senior dog program. Volunteers are needed at all shelters and rescues to help socialize and exercise the animals, but if you have special skills or extra time, there are many other important contributions you can make — from keeping kennels safe and clean to promoting adoptable dogs. Also, not only rescues, but also humane societies, SPCAs, and shelters depend heavily on private donations, and some may have special funds for their senior dogs. The support of donors is also what makes it possible for The Grey Muzzle Organization to help fund senior dog programs.

Be assured that if you decide to adopt, there is a senior dog waiting for you. If you want more reasons why senior dogs make wonderful pets, check them out here. Although the time you will have with an adopted senior dog may be shorter, your life will be forever enriched and you will have the honor and joy of being part of their final adventures.

Additional Resources:
"Tips for adopting the best shelter dog" by Victoria Stillwell
"Adopting a Senior Dog"  by The Grey Muzzle Organization

The Grey Muzzle Organization improves the lives of at-risk senior dogs by providing funding and resources to animal shelters, rescue organizations, sanctuaries, and other nonprofit groups nationwide.
This post was written by K.E. Magoon, Grey Matters Blog Manager and Editor.