This page is dedicated to the Grey Muzzle Always In My Heart campaign donors. During the year, our supporters celebrate the pets they have cherished by making a special "in memory of" donation to the Always In My Heart campaign.  A gift of $20 or more supports senior dogs nationwide who have become homeless when they are most in need.
Always in My Heart Donors
Always in My Heart tributes are displayed with most recent tributes at the top.
Renee, Andre, and Stacie
We love and miss you, Emmet Otter (aka Meems)
Paul & Roslyn Reid
In memory of Morgan, 1991-2004
Lynn & John Middleton
In Memory of our beloved Prince Jacob Raven aka Jake
Lauren Hill
Harriet - my little hiking buddy! I miss you every day.
Karen and the Magee Family
In loving memory of Lilly (aka Li-ttle Lilly, Li-Loy)
Karen A. Mann
In memory of my buddy Cocoa - a.k.a. Mr. C -- 1996-2011
Jennifer Douglas
In memory of Angel Douglas
Heidi Shore
In memory of my sweet girl Sami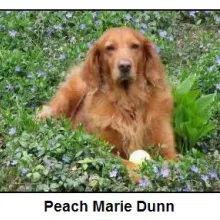 Jennifer Kosanovich
In memory of Peach Marie Dunn.
Results Paging Controls