Twitter
Facebook
Google Plus
Pinterest
Kara was only 8, but she fit the definition of a Thulani Dog – because their program helps the most vulnerable senior dogs and that is what she was. Kara T had the weight of the world on her, as well as a good-sized pendulant mammary tumor. Yet, she continued to share her happy-girl smile.
It wasn't immediately clear that the Thulani Program could help Kara. Their foster program was full and they had no place to put her. But, they sent out pleas for a short-term foster home just so they could take her in and get her checked out. So many people wanted to help Kara and she was rescued just in time.
Once in her foster home, Kara T's tumor started to bleed, so there was no settling in for this gal. The Thulani Program faced a life or death decision for Kara with whether or not she should undergo surgery immediately. They were not about to give up on this gal now, and thanks to a grant from Grey Muzzle, had the resources necessary to save Kara T's life. Kara had the surgery she so desperately needed and came out with her same sweet smile.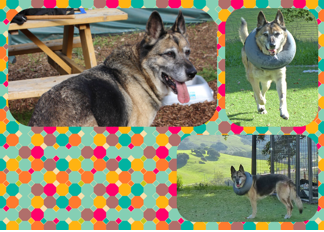 What you see in the pictures is what you get  - here, Kara T is fresh out of surgery, with only a few days rest and this girl was taking on life again. She's a pleaser and happy go lucky. How she ever ended up homeless is beyond comprehension for the Thulani Program staff and volunteers. This gal loves to be active and makes everyone just as happy as she is. She's a miracle all right!