Twitter
Facebook
Google Plus
Pinterest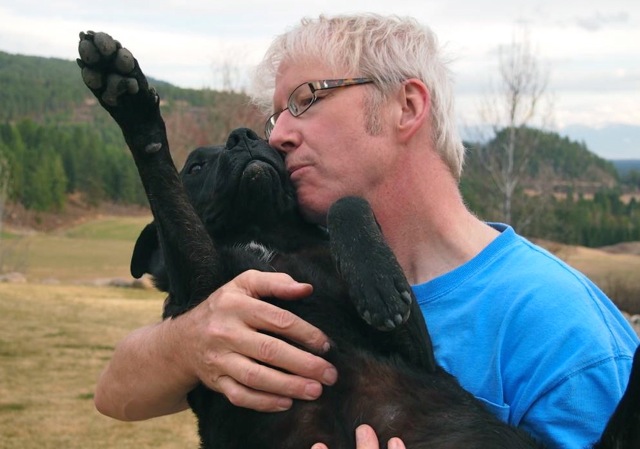 Dr. Marty Becker, DVM has been called "America's Veterinarian" for the expert advice on animal health that he offers as veterinary correspondent on television and in countless articles and 22 books.
At The Grey Muzzle Organization, we are particularly appreciative of the attention he has given to the health and well being of older pets. In his invaluable guide,
Your Dog: The Owner's Manual
,
he agrees that the "final third or so of your dog's life are often the best years you have together."
Of the many animal health and welfare causes that Dr. Becker has championed, the plight of shelter animals is particularly close to his heart - as it is to ours. In addition to his role as a member of Grey Muzzle's Advisory Board, he is currently on the board of the American Humane Association, and in Idaho, where he practices veterinary medicine, he has been a supporter and board member of local shelters and rescue groups, such as Panhandle Animal Shelter, Kootenai Humane Society, and Second Chance Animal Adoption, Inc.
It was during a visit to Second Chance a few years ago that Dr. Becker met Gracie, a then 2-year-old Labrador Retriever/Pit Bull mix. Gracie had arrived at Second Chance's newly opened shelter after a year in the city pound, but despite adoption efforts by staff and volunteers, Gracie was still there six months later. Perhaps it was meant to be; on being introduced to Dr. Becker, Gracie instantly won his heart. She soon found herself a member of the Beckers' multi-dog household on an Idaho horse ranch.
When Grey Matters got the opportunity to interview Dr. Becker, we asked him to tell us more about Gracie. Although not quite a senior, Gracie has faced mobility challenges since puppyhood comparable to those of older dogs. In our interview, Dr. Becker shares not only how he has helped Gracie, but also what he has learned from her about the love of older and special needs pets.
Dr. Becker, a few years ago, you adopted your dog Gracie. How did she come to be a part of your life?
For many years, I've organized a "Santa Paws" event at the three Northern Idaho shelters I'm on the board of. Four years ago, my daughter Mikkel and I were on our way to the last event at our local shelter. On the way I told Mikkel I'd like to get a shelter dog and she replied that it was a good idea but I should make sure I got a small, light coated dog that could be easily transported and would show up well in photographs, video or TV. I went out into the shelter runs to give each dog a KONG filled with Kong Stuffing and came across Gracie, a medium sized, black, Lab/Pit mix that was horrifically crippled. Despite being a chow hound (I found out later) she ignored the Kong, put her head on my leg and looked up at me with love. After many introductory hugs and kisses, she went back home with Mikkel and me.
Since she came home with you, what have you learned from Gracie?
 
I've always loved, advocated for and given resources to help shelter pets. But personally, I was always drawn to puppies. Gracie showed me that the love to be found in older pets, or ones with physical limitation or medical issues, can be stronger than you would ever imagine. I love Gracie more than any dog I've ever had in my life. Why? When many people see Pit Bull, they recoil out of fear. Gracie meets everybody with ebullient love! When people with physical limitations see Gracie, they see how they can be put aside to just live life in the present. Gracie loves to play, goes up and down the stairs at the horse barn, rides in the pickup truck with me on short trips and gives the best kisses.
Although Gracie was a relatively young dog when you adopted her, she already had problems with her legs. What happened to her?
 Gracie had been featured many times in the local paper but was termed unadoptable. Why? Strike one: Pit Bull looks. Strike two: been in shelter two years. Strike three: horrific rear leg deformity. Gracie wasn't born this way. She was a healthy young puppy when taken to the local city/county animal shelter. Once there, this energetic bundle of joy jumped up and down on her back legs almost non-stop for four months, ruining the growth plates on her knees and leaving about a two inch gap between the femur (upper leg bone) and the tibia (lower leg bone).
What have you been able to do to improve Gracie's mobility? Are there measures that owners can take to help their own dogs' orthopedic health or prevent problems as they get older?
 

We took Gracie to veterinary orthopedic specialists and nothing can be done surgically to help her. Someday Gracie will have to be in one of those specially designed carts for dogs. For senior dogs, there are several things you can do help them move easier and safer:
1. Ramps/stairs – These can help pets get up on the couch, bed or in the vehicle.
2. Runners – Carpet runners allow pets to move around the house without slipping or splaying out.
3. Booties – There are various products that slip on the feet and provide good traction on slippery or dangerous surfaces (too hot or cold).
4. Beds – I love heated, orthopedic beds that provide extra padding and deep warmth for sore joints.
5. Medications/diets – The non-steroidal anti-inflammatory drugs such as Rimadyl are miracle drugs for many dogs. Other products that I use with Gracie and prescribe for other dogs include in no order:
  a) Jump Again – An incredible product to help not just joints but ligaments, tendons, muscles [Jump Again is the oral supplement Play Again made for dogs - not yet on the market ]
  b) Revitamal – The most potent free radical scavenger I've ever found. Amazing!
  c) Diets – There are special joint diets available from various companies that can dramatically help mobility.
  d) Class two lasers – I use the Erchonia laser to sooth achy joints and promote healing.
What do you think is the most exciting recent development in veterinary care for dogs with mobility problems?
Increased use of stem cell therapy. I've done about six stem cell treatments in dogs where medications, supplement and laser treatment wasn't enough. 80% of the cases showed improvement.
For more from Dr. Becker on canine health, see his recent book Your Dog: The Owner's Manual, his articles on Vetstreet.com, and our recent blog post "Tips for Helping Senior Dogs Feel Better from Dr. Marty Becker" in which we highlight his articles on older dog health.
The information presented by The Grey Muzzle Organization is for informational purposes only. Readers are urged to consult with a licensed veterinarian for issues relating to their pet's health or well-being or prior to implementing any treatment.
The Grey Muzzle Organization improves the lives of at-risk senior dogs by providing funding and resources to animal shelters, rescue organizations, sanctuaries, and other nonprofit groups nationwide.
About Dr. Marty Becker, DVM: As "America's Veterinarian," Dr. Becker has spent his life working toward better health for pets and the people who love them. For close to 20 years, he was the popular resident veterinary contributor on "Good Morning America." He is a founding member of The Dr. Oz Show's Core Team Oz and a member of the Dr. Oz Medical Advisory Panel. He is the Chief Veterinary Correspondent for the American Humane Association and a member of the AHA Board of Directors. He has written 22 books, including three New York Times best seller, and has been a contributor to Parade magazine, Reader's Digest and AARP.com. When his schedule allows, he practices at two veterinary hospitals in north Idaho.
Interviewed by K.E. Magoon, Grey Matters Blog Manager and Editor