Twitter
Facebook
Google Plus
Pinterest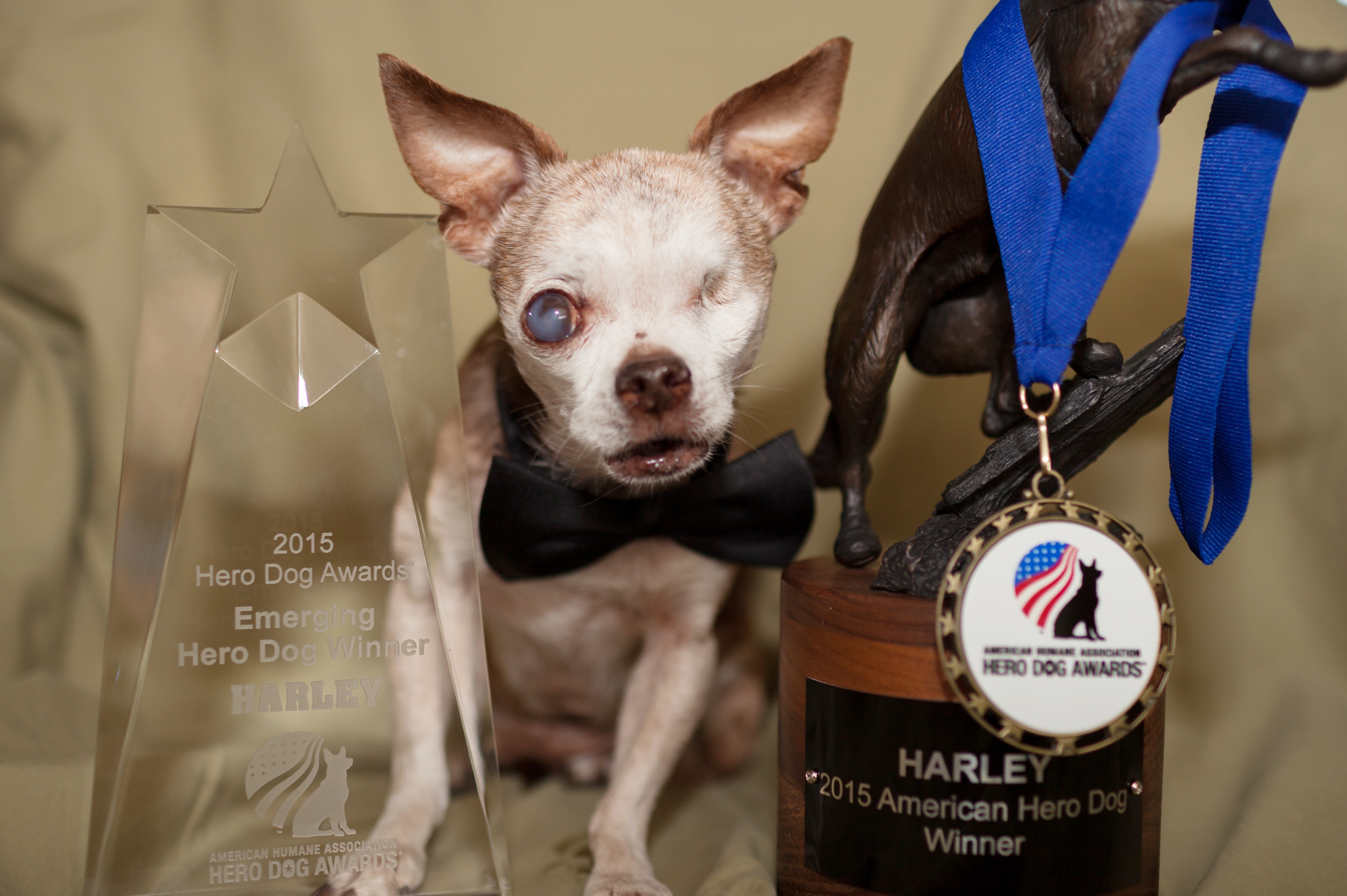 When Harley - a now 14-year-old Chihuahua - was rescued from a commercial dog breeding facility, he was not expected to live another three months. Like many breeder dogs in puppy mills, he had spent his life up to that point confined to a wire cage and denied proper medical care or even the most minimal comforts. At the age of 10, he was freed, seemingly nearing death, having been dumped by the puppy mill.
That was over four years ago.
As those who work in senior dog rescue know, when older dogs receive love and care for the first time in their lives, they often defy the odds. In Harley's case, he not only survived, he found a purpose. Thanks to the efforts of  Rudi and Dan Taylor - the couple who adopted him, Harley has raised funds for puppy mill survivors, inspired rescue missions, and educated the public about the commercial dog breeding industry. Since teaming up with National Mill Dog Rescue in 2013 to launch the 'Harley to the Rescue' fundraising campaign, 586 dogs have been saved as a direct result.
Harley recently received the highest honor at American Humane Association's Hero Dog Awards for being "a voice for the countless breeding dogs still living in puppy mills around the country." In remarking on the significance of Harley's win, Janetta Harvey - author of 
Saving Susie-Belle
 - 
observed, "By Harley winning the award it sends out a loud and powerful message that commercial, industrial puppy breeding which occurs the world over, is a cruel betrayal of the canine-human bond. That dogs lives matter, not for the money that can be made from them, but simply for being themselves. While Harley is certainly heroic, he should not have had to be. He should have been happy and free his whole life."

Recently, Grey Matters got the chance to interview Rudi Taylor, Harley's adopter, about Harley's past and their upcoming trip to Washington.
How did you end up adopting a puppy mill survivor?
I wasn't actually planning to adopt a dog at the time I first saw Harley, but he stole my heart. I was already well-aware of puppy mills and I understood that Harley had had a very rough life. I knew that my husband and I could give him the love and kindness he deserved for whatever time he had left – which at that time was thought to be only a few months.
What do you know of Harley's life in the puppy mill?
Information about Harley's life prior to being rescued was relayed to me through the lady who actually saved him. Besides the information that was known, there were many obvious signs of neglect and abuse. Harley's eye was lost because his cage was cleaned using a power-washer. His spine is fused at this neck and he also had a herniated disc, mid-spine. His mouth was filled with rotten teeth and gums, his toes had a gnarled appearance from living on wire. In addition, Harley had a broken tail, his rear patellas were permanently dislocated, and his lungs and heart were failing.
Most of these conditions were clearly the result of living in wretched conditions, probable physical abuse, and a complete lack of medical attention.
What makes Harley such a good "spokesdog" for puppy mill survivors?
Harley's one-eyed grizzled appearance isn't too uncommon for a dog that comes out of a puppy mill, yet Harley's face seems to attract people in a sympathetic way, making him a natural "face" and "voice" for the millions of puppy mill dogs. Harley is such a quiet, gentle and forgiving little dog and he loves to be held by children and adults. Even though Harley might not be considered cute (by some standards), his sweet face makes him adorable to those who know and love him!
What can people do to support Harley's mission on behalf of puppy mill survivors like him?
Spreading awareness is key, and that is always what Harley has promoted, but now we need people to contact their lawmakers. They can find more information here: harleypuppymilldog.com/contact-your-lawmakers/
Why does Harley want to meet the President?
Harley's mission as "the little dog with a big dream" has always been to spread awareness about puppy mills, with the ultimate goal - to put an end to the commercial dog breeding industry. Over the past few years he has been gaining momentum, and now, having become the American Humane Association's 2015 American Hero Dog, Harley has been provided the opportunity to hopefully make an even greater impact. To meet President Obama would be a chance to discuss the puppy mill issue with our highest form of government and we feel the impact this meeting would make millions of Americans take notice. Harley's 'Letter to the President' is on video and can be watched on YouTube here:
You can learn more about Harley and the work he and his family do on behalf of puppy mill dogs at: harleypuppymilldog.com.
The Grey Muzzle Organization improves the lives of at-risk senior dogs by providing funding and resources to animal shelters, rescue organizations, sanctuaries, and other nonprofit groups nationwide. 
Profile and interview by K.E. Magoon, Grey Matters Blog Manager and Editor