Twitter
Facebook
Google Plus
Pinterest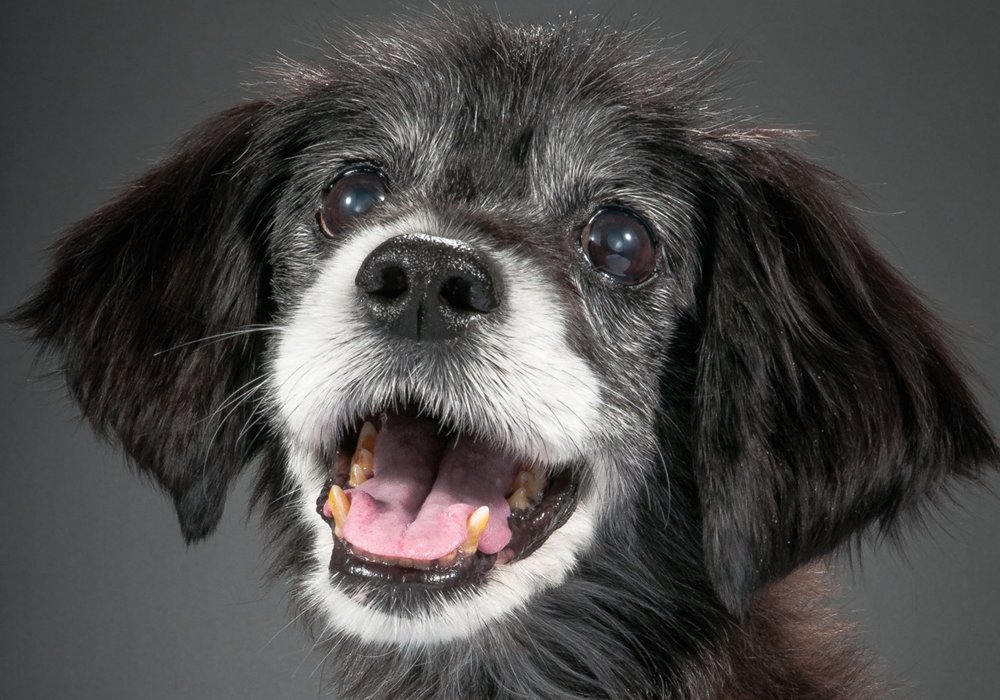 Older dogs, with their greying fur and sagging jowls, have a special beauty. This beauty is wonderfully captured in a series of portraits by Toronto-based photographer Pete Thorne. On October 27th, photos from this collection will be published in a new book, entitled Old Faithful: Dogs of a Certain Age from HarperCollins Publishers.
We are pleased to have gotten the chance to ask Pete Thorne about his series and share a few of his photographs.
What inspired you to photograph old dogs?  
I was originally inspired to photograph old doggies shortly after photographing my grammie's 100th birthday party. I was interested in exploring the idea of aging through portraiture, so took my love of doggies, and especially old dogs, and decided to do very formal portraiture of them.   
What is the oldest dog you have photographed?  
Obviously their old age in years is linked to the breed, but I have photographed quite a few who have surprised their owners and vets. I have some Great Danes like Isis who is 9 years old and Murphy who lived to be 10.5; Chico and Sam (both Chihuahuas) are about 18 now... I have seen some old doggies put puppies to shame with their energy levels! 
Your series has been shared widely. Were you surprised by the interest in older dogs and by the appreciation of their beauty?  
I was very surprised by the response to the work, thinking that nobody would be all that interested in pictures of lumpy, jowly, and sometimes rather haggard looking old doggies, but it turns out there are quite a few out there with a soft spot for senior dogs.
I think all dogs, like people, have a unique beauty. With these portraits I intentionally light and photograph them as I would a person. I want the viewer to look these dogs in the eye (or lack thereof) and to consider that there is beauty in a time-worn face. I think that tell-tale signs of aging - like chipped or missing teeth, milky eyes, grey beards and eyebrows - reveal the character of the dog and reveal a life lived. Some have aged gracefully, while others lumps and bumps hard won
Do you have dogs of your own?  
I don't currently have a dog. I am a dog-less dog lover! I had them growing up, and also when I was in my early 20s, but have never been around for any of their golden years. All this has kind of taken me by surprise and keeps me quite busy but I am eager to find myself in a position where I can adopt one and have the necessary space and time to care for them properly. I guess in some ways I get my doggie cuddles in when I photograph them, but it is still not enough.
What are you working on now?
I am still photographing senior dogs, as this project is a passion of mine, while also trying to develop dog photography as a small business, so I can continue to do so. I am also hoping to take it on the road in the United States as I did in Canada. I get a lot of requests to come visit and photograph doggies "down south." As for a follow-up, I am currently shooting a secret cat project!.
You can see more of Pete Thorne's series by following him on Facebook and Instagram.
To learn more about the book, visit: Old Faithful: Dogs of a Certain Age.
The Grey Muzzle Organization improves the lives of at-risk senior dogs by providing funding and resources to animal shelters, rescue organizations, sanctuaries, and other nonprofit groups nationwide.
About Pete Thorne:  Pete Thorne is a professional photographer. He is a graduate of the Nova Scotia College of Art and Design, and lives in Toronto.