Twitter
Facebook
Google Plus
Pinterest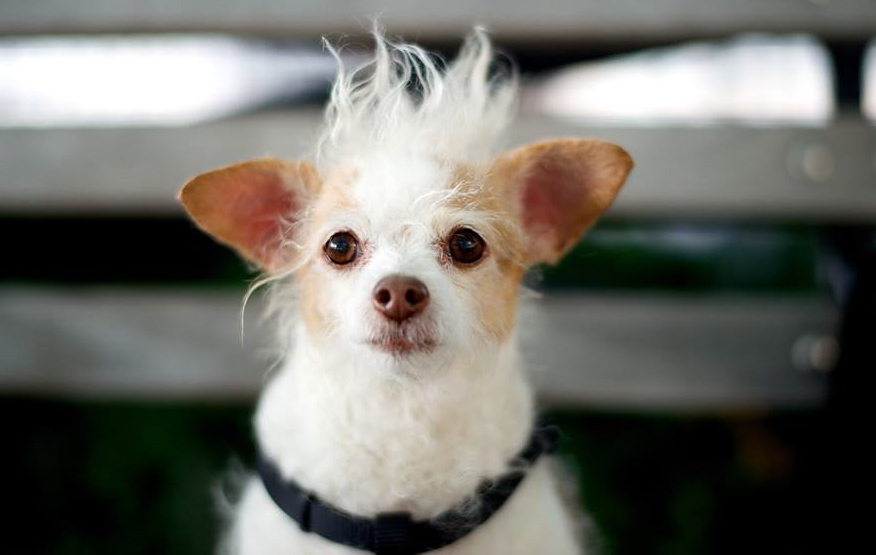 There's a wiry-haired, 14-year-old Chihuahua mix taking the Internet by storm this year. Her name is Susie and she's on a mission to help homeless older dogs connect with the family that will love them, despite their age and past - just like she did!
Homeless senior dogs from across the country are now featured on the wildly successful Facebook page created in Susie's honor. Founded in January of this year,
Susie's Senior Dogs
has already racked up 150 adoptions and is just getting started. Those viewing the Susie's page will find adoptable senior dogs - from Oregon to New York and back again - ready for a soft bed and a family of their own. In addition to the adoptable dogs, dog owners who have welcomed older pets into their home share their stories of how adopting a senior dog changed their world for the better.
Erin O'Sullivan is the human behind Susie's Senior Dogs. She didn't know it at the time, but the journey towards dozens of tail-wagging success stories began three years ago when her boyfriend Brandon Stanton met, photographed, and eventually adopted the then 11-year-old Chihuahua named Susie on the streets of New York City. Brandon had never opened his heart and home to a dog before, but he was drawn to the senior dog with a quirky Mohawk.
When Susie's then owner told him that he could no longer keep her, Brandon welcomed her into his home. As the days passed by and daily life ensued, Erin had a front row seat to the budding friendship between Susie and Brandon. It was in that space that an idea was born. "It was the best decision we ever made," says Erin. "Senior dogs are the most overlooked at shelters simply because of their age, and they are typically deemed least likely to get adopted." The idea for Susie's Senior Dogs was planted.
The dogs and the adopters aren't the only ones singing - or howling rather - Susie's and Erin's praise. Shelter volunteers and staff who have to watch senior dogs passed over for adoption are eager to be a part of Susie's network. Even though often overlooked by prospective adopters and left to languish in shelters, senior dogs can be the perfect pets. And the unique approach of showcasing only senior dogs is clearly working for even some of the toughest hard luck cases.
While there's Molly, an eight-year-old battle-scarred former bait dog, still waiting for her chance at Forgotten Friends of Long Island, many other happy endings already abound. Perhaps the most touching one this summer was that of the 9-years-young pup named Brigado in California. He spent the first 8 years of his life chained to the side of a house exposed to the elements, neglected medically, nutritionally, and socially. Thanks to Susie's network, Brigado now has a family to call his own for the first time in his life. And they insist that he live indoors with them. The shelter staff from Second Chance at Love Humane Society, who drove over 4 hours to rescue Brigado and oversaw his medical care, were thrilled when Susie's page connected Brigado with someone else who saw that the gentle soul deserved all of the best life has to offer.
Clearly Susie's network of friends is helping dogs all over rewrite the last chapters of their story and prove that it is never too late to have it all.
Erin is committed to this cause on behalf of Susie because she knows that senior dogs have a lot of love to give and a lot of life left. She feels that a little bit of grey in the fur doesn't mean a thing and she is happy to help others see things from her perspective. One of her converts is Britany, a mother of three from Grand Rapids, Michigan. Britany, who adopted the 12-year-old Lhasa Apso named Molly, said that she never thought about adopting a senior dog before seeing her Molly available for adoption on Susie's Senior Dogs.
"Erin's project is one example of how one person can make a difference," says Jennifer Kachnic, President of The Grey Muzzle Organization. "I admire Erin's passion for animal welfare and being a voice for these homeless old dogs out there that so need her!"
Susie's Senior Dogs is in the process of becoming a full-fledged 501(c)3 nonprofit.  In the meantime, she is currently fostering a 10-year-old Poodle that has earned the moniker Petey The
Perfect
Poodle for his laid-back demeanor.
Susie's Senior Dogs can also be found on Twitter and Instagram.
The Grey Muzzle Organization has recently announced that Erin O'Sullivan has been named to the Grey Muzzle Advisory Board. In addition to a volunteer Board of Directors, Grey Muzzle receives input and advice from a fantastic Advisory Board of experts from many different professions. By working with Grey Muzzle, Erin will also join a robust roster of volunteers, animal welfare and rescue professionals, and donors committed to improving the lives of senior dogs by providing funding and resources to animal shelters, rescue organizations, sanctuaries, and other nonprofit groups nationwide.
About the Contributor: Carrie Collins-Fadell is Executive Director of the United Way of Cayuga County, New York, and a longtime animal welfare advocate.