Twitter
Facebook
Google Plus
Pinterest
A Naperville Area Humane Society volunteer asked for help when he found out that his neighbor was going into hospice and senior dog, Pepper, would be surrendered. The man had no family willing to take Pepper. NAHS knew they needed to step in.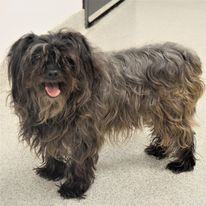 Prior to making Pepper available for adoption, NAHS staff needed to be sure he was healthy and well-groomed. His physical transformation is so striking - It's easy to tell how desperately he needed to be groomed! 
NAHS, with help from Grey Muzzle grant funding, was also able to clean Pepper's teeth, give him all needed vaccines and a microchip, and complete a senior wellness exam.
With a clean bill of health, Pepper's stay at the shelter was short. He was adopted 5 days after he was made available, and has been enjoying life with his new family ever since