Twitter
Facebook
Google Plus
Pinterest
Hacky Sack is an eight-year-old Basset Hound who wound up at West Valley Humane Society (WVHS) as a stray. It might have been a blessing in disguise for this handsome guy as he had quite a few medical problems, including kennel cough, eye discharge, ear discharge, muscle loss, overgrown toenails, gum loss and calcified plaque.
Thanks to a grant from Grey Muzzle, WVHS took care of these problems including bloodwork, a complete dental and neuter surgery. Hacky Sack's bloodwork revealed mild anemia and a low thyroid, but he was otherwise healthy. During his dental, he needed to have two canines and one molar removed.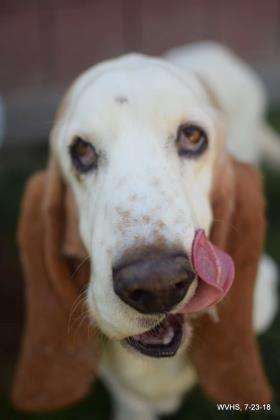 After Hacky Sack received the care he needed, he really felt like he had a new leash on life! WVHS discovered he is a happy, friendly boy who got a second chance to find a loving home! He was adopted by a veterinarian that fell in love with his sweet personality and will be able to meet his medical needs going forward. A very happy ending for this deserving senior!
You can give more senior dogs the care they desperately need.